Random Question of the Day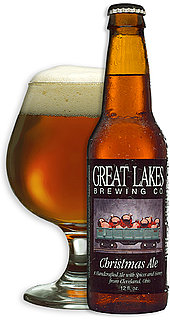 The excitement of my week a few weeks ago was finding out that beer from my favorite brewery, Great Lakes Brewing Company, made it to Washington, D.C. They don't use preservatives in any of their beer, so it's often difficult for them to find distributors in new markets. (They will only work with distributors who are willing to keep the beer refrigerated at all times.) Well, apparently they found the right distributor in January and the beer has been here for 3 months! I don't know where I was for those three months, but apparently I was not at the right bars. The beer is starting to make it to more stores, though, and I was able to pick up a six-pack of their Burning River Pale Ale at my favorite corner store. It was the highlight of that particular week. (I know, my life is thrilling.)
Anyway, it brought a few questions to mind that I thought would make for a fun conversation here on Happy Hour. Are any of you fellow beer drinkers? If so, what's your favorite beer/beers?
The Great Lakes beers are my favorites. Christmas Ale, which is not only my favorite, but also the favorite of many Clevelanders, is available only in November and December, so I'm waiting to see if it will be distributed in D.C. during those months. My second favorite, Holy Moses White Ale, is available only from April-August. I've yet to see it in D.C., but I've heard it's here, just hard to find. My favorite year-round beer is Burning River Pale Ale.
What about you ladies and gentlemen? Which beers do you enjoy and why?
Saved to