Recipe for Magnolia Bakery's famous banana pudding
Although they are more famous for their cupcakes, I heard from many people that they actually prefer Magnolia Bakery's banana pudding to their cupcakes. And when I found their recipe online, which was taken from the Magnolia Bakery Cookbook, I tried it and it tasted and looked exactly like the one you would get at one of their stores, so I don't see the point of buying it in a store, when you can make the exact one at home.
I bake a lot, but if you are one of those people who doesn't use the kitchen much (like my former self), even you can whip this up in no time, because it does not even require baking. It is so easy; just follow the recipe below. And it has only a few ingredients. Here is a photo I took of the banana pudding I made today :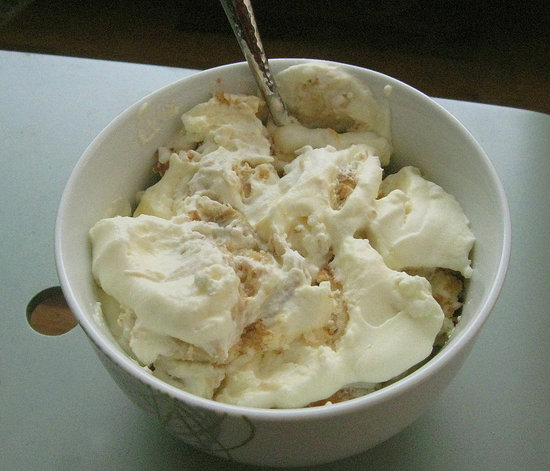 Magnolia Bakery's banana pudding recipe, as taken from their cookbook:
1 (14-ounce) can sweetened condensed milk
1½ cups ice cold water
1 (3.4-ounce) package instant vanilla pudding mix (preferably Jell-O brand)
3 cups heavy cream
1 (12-ounce) box Nabisco Nilla Wafers (no substitutions!)  (PS: I think this recipe needs more wafers than the 12 oz box.  Next time I make this, I will use half of a box more than what the recipe calls)
4 cups sliced ripe bananas
In a small bowl, on the medium speed of an electric mixer, beat together the sweetened condensed milk and water until well combined, about 1 minute. Add the pudding mix and beat well, about 2 minutes more. Cover and refrigerate for 3-4 hours or overnight, before continuing. (PS: I did not want to wait for 3 hrs, so I put it in the refrigerator for 15 minutes, and then the freezer for 10-15 minutes, and it was as set as it could be; just make sure that it is an "instant" vanilla pudding mix that you used. If it isn't instant, it will take longer to set. But also be careful with the time in the freezer if you are going to do it my way, because you don't want a frozen pudding).  It is very important to allow the proper amount of time for the pudding mixture to set.
In a large bowl, on the medium speed of an electric mixer, whip the heavy cream until stiff peaks form. Gently fold the pudding mixture into the whipped cream until well blended and no streaks of pudding remain.
To assemble the dessert, select a large, wide bowl (preferably glass) with a 4-5-quart capacity. Arrange one-third of the wafers to cover the bottom of the bowl, overlapping if necessary, then one-third of the bananas and one-third of the pudding. Repeat the layering twice more, garnishing with additional wafers or wafer crumbs on the top layer of the pudding. Cover tightly with plastic wrap and allow to chill in the refrigerator for 4 hours - or up to 8 hours - before serving. I suggest defintely more than 4 hrs to get the wafers soft enough, cakelike. PLEASE visit my blog to check out other recipes. It is a new blog, so it is still a baby. Please follow it, if you like it. Thanks. :)
Saved to