Sardine and Arugula Sandwich
Modified from Esquire
Sardine and Arugula Sandwich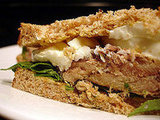 Ingredients
2 tablespoons Dijon mustard
8 slices Jewish rye bread
2 handfuls arugula
1 tablespoon walnut or olive oil
2 tins good quality oil-packed sardines, drained
2 hard-boiled eggs, sliced
Directions
Spread one half tablespoon of mustard on four slices of bread.

Toss the arugula with the oil and place it on the mustard-coated slices. Arrange the sardines over the arugula.

Lay the hard-boiled egg slices over the sardines.

Top with remaining bread, cut in half, and serve.
Makes 4 sandwiches.
Saved to