Repubicans On Rampage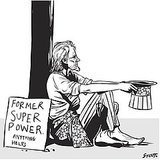 Hey----According to the following message I got in a private email, apparently Republicans are still running amok and allowing truth about the healthcare reform to be blurted out for just about anyone to hear. I wonder about this because Democrats are quick to tell anyone that will listen that they have won a great battle....but then they turn around and beg for more money to quiet Repubicans. This email pleads for more money to fight for a cause that the Democracts will in the same breath say they have already won. How many morons send money to these people?
This is the email minus the links to go give your hard earned cash to:
Dear MoveOn member,
Republicans are on a rampage to repeal health care.
And with so much misinformation out there, we need to fight back with the truth.
So we've got an ambitious plan to go into Republican districts with ads that let voters know what the health care reform law means for their families and hit the Republicans for being against it. To make this work we're going to need to raise $200,000 this week— and that will take a few more donations from people in your town. Can you chip in $5?
Our new ad campaign is one of the strongest we have ever created.
It features real life stories from Americans who will be helped by reform—small business owners, parents of children with pre-existing conditions, families who struggle with concerns about job security and the economy—and shows how health care reform will make a real difference for people all over the country.
The personal appeals are powerful. And they lay the truth bare: When American families needed help and courage from Washington, the Republicans were united against them.
It's time to put the Republicans on the defensive and we need to get started right away. Every day that we're silent is another day that Republican fear mongering goes unchallenged.
Please chip in $5:
The next few weeks will determine how the story of health care reform will be told this year—it's up to us to make sure it's the right one.
Thanks for all you do.
–Nita, Laura, Peter, Ilyse and the rest of the team
--------------------------------------------------------------------------------
PAID FOR BY MOVEON.ORG POLITICAL ACTION, http://pol.moveon.org/. Not authorized by any candidate or candidate's committee. This email was sent to............on April 8, 2010
**************************************************************************************************
Another Cheeky note: Who the hell are these people?
Saved to