Rich Fruit Cake with Marzipan and Fondant
Merry Christmas everyone!
Yesterday I finished making my first cake with fondant!
It was so much fun, I used an easy marshmallow fondant recipe that turned out easy to handle and delicious.
I first put a layer of Marzipan on my fruit cake and then covered it with a "blanket" of Fondant.
The fruit cake is very rich and lasts for MONTHS, I don't know if the fondant and marzipan does though!
Anyway, here's my last recipe for the year. You could also just buy a fruit cake and make the rest.
Cake and Marzipan: The Colour Library Book of Baking Fondant: www.whatscookingamerica.net
Rich Fruit Cake with Marzipan and Fondant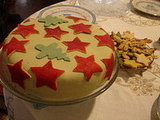 Ingredients
CAKE
750g (1½ lb.) sultanas
250g (8 oz) raisins
125g (4 oz) currants
125g (4 oz) glace cherries
125g (4 oz) mixed peel
½ cup rum, brandy or sherry
250g (8 oz) butter
11/3 cups brown sugar, firmly packed
1 tsp grated orange rind
1 tsp grated lemon rind
4 eggs
2 tbsp marmalade
2½ cups plain flour
1 tsp mixed spice
¼ tsp cinnamon
¼ tsp nutmeg
pinch salt
MARZIPAN
4 ½ cups pure icing sugar
2 ¼ cups ground almonds or almond meal
3 egg yolks
2 tbsp sweet sherry
1 tbsp lemon juice
FONDANT
16 ounces white mini-marshmallows
2 to 5 tablespoons water
2 pounds icing sugar (use C&H Cane Powdered Sugar for the best results)
½ cup Crisco shortening (you will be digging into it so place in a very easily accessed bowl)
Directions
CAKE
Chop all fruit, place in large basin, add rum, brandy or sherry, cover, stand few hours or overnight.
Line deep 23cm (9 in.) round cake tin or 19cm (7½ in.) or 20cm (8 in.) square tin with two thicknesses of greaseproof paper, bringing paper 5cm (2 in.) above edge of tin.
Cream butter until soft, add brown sugar, beat until just combined; add orange and lemon rind. Add eggs one at a time, beating well after each addition, add marmalade.
Place creamed mixture into large basin, add fruit mixture and sifted dry ingredients alternately, mix thoroughly. Place mixture into prepared tin, bake in slow oven 3 to 3½ hours to until cooked when tested.
MARZIPAN
Sift the icing sugar into a bowl and add the ground almonds, mix thoroughly and make a well in the centre.
beat the egg yolks, sweet sherry and lemon juice together, pour into icing sugar mixture and gradually work into a firm smooth paste with one hand, kneading well.
Lightly sprinkle a board or work bench with a little extra icing sugar, lift the mixture onto the board and knead with both hands to a firm smooth dough-do not add too much extra icing sugar unless the dough is very soft.
Cover tightly until ready to use, the re-knead gently before rolling out and applying to the cake as required.
FONDANT
Melt marshmallows and 2 tablespoons of water in a microwave or double boiler: Put the bowl in the microwave for 30 seconds, open microwave and stir, back in microwave for 30 seconds more, open microwave and stir again, and continue doing this until melted. It usually takes about 2 minutes total. Place 3/4 of the powdered sugar on the top of the melted marshmallow mix.
Now grease your hands GENEROUSLY - palms, backs and in between fingers, then heavily grease the counter you will be using and dump the bowl of marshmallow/sugar mixture in the middle.
Start kneading like you would bread dough.
Keep kneading, this stuff is sticky at this stage! Add the rest of the powdered sugar and knead some more. Re-grease your hands and counter when the fondant is sticking. If the mix is tearing easily, it is to dry, so add water (about ½ tablespoon at a time then knead it in). It usually takes me about 8 minutes to get a firm smooth elastic ball so that it will stretch without tearing when you apply it to the cake.
TO FINISH CAKE
Brush sides and top of cake with lightly beaten egg white. roll out 2/3 of the marzipan into a long strip and use to cover sides of cake.
Roll out remaining marzipan into a square/circle, the shape of the top of your cake and carefully lift onto cake with a rolling pin.
Smooth top and sides of cake, sealing edges by pressing the marzipan together, using a little egg white if necessary. Brush the top of the whole marzipan with egg whites.
Now smooth the condant over top and sides of cake, rubbing corners and edges well. Cut off excess fondant.
Use your left over fondant and marzipan to create decorations using a cookie cutter and more egg whites to stick.


MERRY CHRISTMAS AND HAPPY NEW YEAR TO ALL!
Saved to