Roasted Pepper and Eggplant Frittata
Make sure to use an ovenproof skillet because the frittata goes directly from the stovetop to the oven.
8 servings
PER SERVING: 240 calories, 15.5 g total fat (5 g saturated fat), 14.5 g protein, 11.5 g carbohydrate, 280 mg cholesterol, 445 mg sodium, 1 g fiber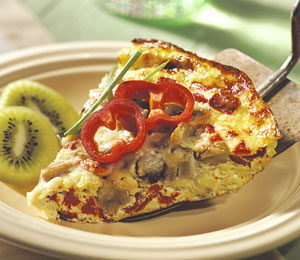 cook book
Roasted Pepper and Eggplant Frittata
Ingredients
10 eggs
1/2 cup milk
1/2 teaspoon salt
1/4 teaspoon pepper
3 tablespoons olive oil, divided
2 cups finely chopped peeled eggplant
1 (12- to 13-oz.) jar roasted red bell peppers,
drained, chopped
1/4 cup shredded Parmesan cheese
Directions
1. Whisk eggs, milk, salt and pepper in medium bowl until well-blended.
2. Heat 2 tablespoons of the oil in large ovenproof nonstick skillet over medium heat until hot. Cook and stir eggplant 5 to 8 minutes or until tender. Stir in bell peppers.
3. Add remaining 1 tablespoon oil to skillet; heat until hot. Pour egg mixture over vegetables. Cook, covered, over medium to low heat 12 to 15 minutes or until almost set, occasionally lifting edges with spatula and tilting skillet to allow uncooked egg to flow to bottom of skillet.
4. Heat broiler. Uncover skillet; sprinkle frittata with cheese. Broil 1 to 2 minutes or until golden brown. Cut into wedges.
Information
Category

Breakfast/Brunch, Omelet/Frittata
Saved to