Roux Violites Bleach!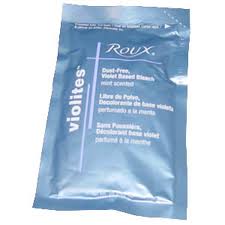 This is Roux Violites Bleach powder, for lightening your hair- you can either apply a more natural light shade over it or go for the platinum look. Originally the only  reason I bought it was because it was on sale, but now it's my go-to brand. It's comparable to 'blue' based bleaches in price, at my local beauty supply shop (Sally's) it's about 50 cents cheaper than the others.
It's 'mint-scented' which sounds hokey, but it makes a world of difference! Seriously this product does not smell like bleach at all, it's amazing. It's not as strong as some other bleaches; I've read other reviews saying it doesn't work and you have to leave it on for hours and it still doesn't work, which is not quite my experience. I have thick, dry, curly hair and I use a 30 volume developer and leave it on for about half an hour. YES that is longer than with other bleaches BUT it doesn't fry my hair the way other bleaches do. I go with the full bleach-blonde look and to get rid of my dark roots I put it all the way down to my scalp, and there is no irritation.
I would highly recommend this product to anyone who wants to lighten their hair without the traditional toxic bleach fumes and without toasting their hair completely.
Saved to