Rustic Open Faced Fruit Pie
I got this recipe in a cooking class I took at the BCAE. I've made it twice, both times with fresh berries, but frozen ones work just as well. You can use almost any fruit, and its soooo easy. It's also great when served a la mode, as well as a quick & easy dessert to make for a party.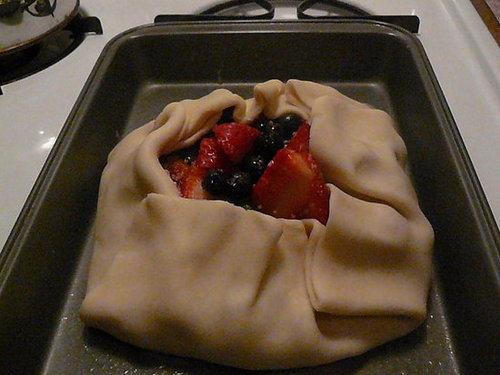 Diane Manteca (Boston Center for Adult Education)
Rustic Open Faced Fruit Pie
Ingredients
One package frozen (or fresh) fruit
(Peaches, any berries, or cherries. Apples can also be used if sliced thin.)
4 tablespoons sugar / Splenda
1 teaspoon cinnamon
1tablespoon tapioca (Minute Tapioca works well)
1/2 teaspoon kosher salt
One (1) package refrigerator pie crust (the rolled flat kind)
Non-stick spray (I like the Pam spray designed for Baking)
Directions
Preheat your oven to 350 degrees.
Defrost the berries and the pie crust (if necessary). Place the pie crust on a cookie sheet sprayed with the non-stick spray.
In a bowl, toss the fruit (I used strawberries and blueberries) with the sugar/Splenda, the cinnamon, salt and tapioca. Carefully place it in the center of the pie crust. Fold up the sides to encompass the fruit, but expect some fruit to be visible on top. Sprinkle a little extra sugar over the top.
Bake in the preheated oven for about 30 minutes, or until the bottom of the crust is a light golden brown.
Information
Category

Fruit, Desserts

Cuisine

French
Saved to