Saffron Risotto with Sausage and Kale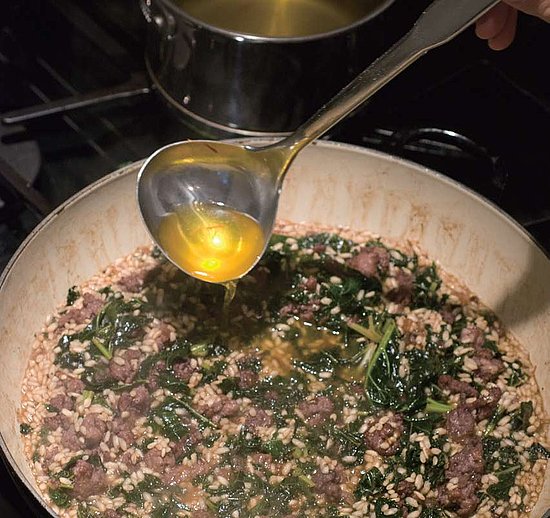 This is the recipe from my friends Matt and Melissa who wrote "The Italian Farmer's Table" --one of the best cookbooks I have seen in...forever! Here's the recipe. I made it last night and it turned out so well. I had been trying to figure out what to do with all this saffron my cousin gave me. Here is the perfect recipe. Enjoy! --Pretzels
Saffron Risotto with Sausage and Kale
Risotto allo Zafferano con Salsiccia e Cavolo Nero
The combination of saffron and risotto was fashioned in Lombardy, and the region's most recognized rice dish, risotto alla Milanese, uses the spice judiciously for both color
and flavor. This risotto adds saffron threads to the classic pairing of sausage and leafy kale for a great fall first course.
1 quart (32. fl. oz. / 960 ml) homemade chicken broth (see page xi) or canned low- sodium broth
1 large pinch saffron threads
2 tablespoons (1 fl. oz. / 30 ml) extra-virgin olive oil 1 yellow onion, cut into small dice
½ pound (225 g) sweet Italian sausage, casing removed and crumbled 1 cup (8 fl. oz. / 240 ml) full-bodied red wine
1 bunch kale, cut into 1-inch ribbons, plus more for garnish 2 cups Arborio rice
1 cup (8 fl. oz. / 240 ml) white wine
Kosher salt and freshly ground black pepper 3 tablespoons (1 ½ oz. / 45 g) unsalted butter
¼ cup grated Parmigiano Reggiano
Heat the chicken broth with the saffron in a 4-quart saucepan over medium heat. Bring up to a boil, then lower the heat and keep warm.
In a 12-inch straight-sided sauté pan, warm the olive oil over medium heat. Add the onion and a pinch of salt, then sauté until tender and translucent, about 7 minutes. Add
the sausage to the pan, stirring occasionally, and sauté until browned, about 5 minutes. Add ½ cup red wine to the pan and simmer until reduced to dry, about 10 minutes.
Add the kale to the pan and cook until wilted, about 10 minutes. Add the rice to the pan and toast, 2 to 3 minutes. Pour in the white wine and the remaining ½ cup of red wine,
bring to a boil, and reduce until dry.
Add the broth to the pan one ladle at a time, to cover the rice, stirring constantly with a wooden spoon until the broth has been completely absorbed by the rice. Continue to
ladle broth into the risotto in the same manner, one ladle at a time, stirring continuously, until the rice is al dente and creamy, about 15 minutes. Season to taste with salt and pepper.
Stir in the butter and the grated cheese and garnish with a tablespoon of finely chopped raw kale. Serve in individual shallow bowls. Serves 4.
Saved to