Salmon and Bowtie Pasta Salad
I made this for the first time tonight and it was really good.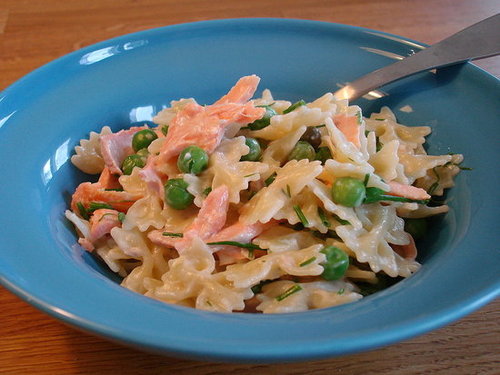 The Australian Women's Weekly
Salmon and Bowtie Pasta Salad
Ingredients
500g salmon fillets
500g bowtie pasta (I used baby bowtie pasta)
1 1/2 cups or 240g frozen peas
2/3 cup or 160g sour cream/crème fraiche
1 Tbs lemon juice
2 tsp water
2 Tbs green peppercorns, rinsed and drained
1 Tbs coarsely chopped fresh dill
2 trimmed sticks of celery, sliced thinly on the diagonal
1/3 cup coarsely chopped fresh chives
Directions
1 Cook salmon, uncovered, in large heated oiled frying pan until lightly browned on both sides. Drain on a paper towel.
2. Meanwhile, cook the pasta in a large pot of boiling water. Just before draining the pasta add the thawed peas to the pasta, then drain.
3. Combine sour cream, juice, water, peppercorns and dill in small bowl.
4. Place salmon in a large bowl; using a fork, flake salmon. Add celery, chives, sour cream mixture, pasta and peas; too gently to combine.
serves 6
Information
Category

Pasta, Main Dishes
Saved to