San Francisco Style Mussels Cioppino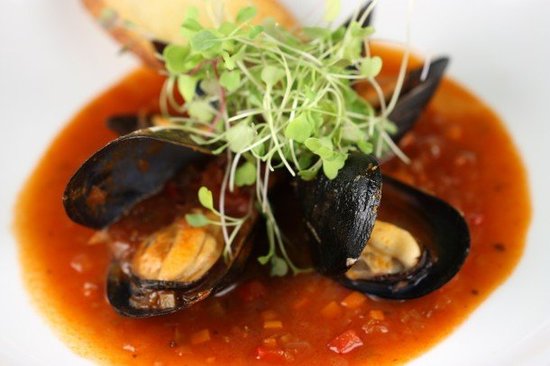 At today's farmers market I saw the most incredible sustainably farmed mussels and oysters from Carlsbad Aquafarm. The Old Towne Orange Farmer's Market vendor had completely inspired my main course for tonight's dinner. After getting some information and tips from the farmer, I immediately thought of steaming the mussels in a tomato broth to create a San Francisco style mussels cioppino dish, especially since tomatoes are ripe and in season.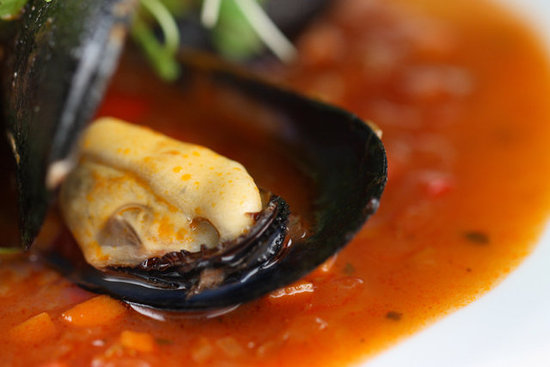 More on my blog: http://www.jessicagavin.com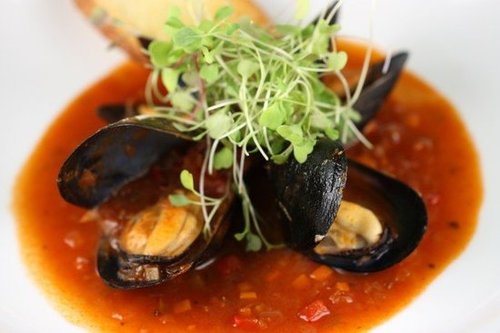 San Francisco Style Mussels Cioppino
Ingredients
2 pounds of mussels
1 cup onion, 1/4" dice
8 cloves garlic, minced
1/2 cup leeks,
1/2 cup carrots, 1/4" dice
1/2 cup red bell pepper, 1/4" dice
2 small hot peppers, minced
1/2 cup peeled tomatoes, 1/4" dice
6 oz tomato puree
1/2 t thyme, chopped
1 dried bay leaf
1/2 cup red wine (I used merlot)
1 tablespoon lemon juice
1 1/2 cup water
Kosher salt and black pepper, as needed
Micro arugula, to garnish
Baguette, sliced on a bias
Directions
Preheat oven to 375 degrees F. Slice  the baguette on a 1/2″ bias. Lightly brush each side with olive oil and sprinkle salt. Place on a baking sheet and bake until golden brown on each side. Check every 5 minutes, approximately 15 minutes. Cool and reserve.
In a large pot, heat the oil over medium low heat. Add the onion and garlic, and cook until translucent, about 5 minutes. Add the leeks, celery, bell pepper and minced hot peppers. Cook for another 5 minutes. Add the tomato and cook 3 minutes. Add the tomato paste, wine, water, lemon juice, thyme and bay leaf. Simmer for 25 minutes. Remove the bay leaf.
Clean and remove the beard of the mussels. Discard any mussels that have broken shells or do not close when tapped. Add the mussels to the pot of broth. Cover and boil, shaking thee pot occasionally, just until the mussels open, about 3 minutes. Remove the mussels that open to prevent over cooking. Discard any that do not open.
Stir in freshly cracked bell pepper into the broth. Taste, and if needed, add salt.
To serve: Ladle some broth into a large bowl, add mussels, garnish with micro arugula. Serve with croutons.
Information
Category

Main Dishes
Saved to