Sangria Flora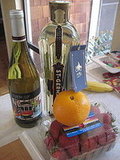 Ingredients
One 750-milliliter bottle Sauvignon Blanc
1 1/2 cups St-Germain elderflower liqueur (or elderflower cordial)
1/4 cup Cointreau
6 strawberries, sliced 1/4 inch thick
6 raspberries
2 peaches, sliced 1/4 inch thick
1 orange, thinly sliced crosswise
1 pound green and red grapes
Ice
Directions
Combine all of the ingredients in a pitcher and let stand at room temperature for 3 hours, or cover and refrigerate overnight.
Serve in wineglasses over ice.
Serves 6-8.
Note: Peaches weren't in season, so I left them out of the sangria. There was a buy one get one free sale going on at my grocery store for strawberries and instead of using raspberries, I doubled the amount of strawberries.
Saved to