Satin Brocade Slingback - Red & Gold Chrysanthemum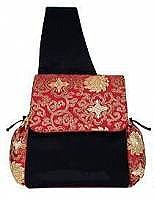 This beautiful red satin brocade slingback has a gorgeous iridescent Chrysanthemum print and measures: Bottom 12 1/2"W(excluding the 2 side pockets), 17 1/2"W (including the 2 side pockets). Top 11"W.
It has an extra wide shoulder strap for comfort and weight support. The buckle close is adjustable. There are 2 pockets (1 velcro, 1 zippered) on the shoulder strap for cellphone and other small things. The 2 large side pockets (draw strings) are suitable for bottles or diapers. The side tops with magnet button to keep shape or expand for extra space and front flap magnet button closure. The inside has generous space with one open wall pocket. Made of fine satin brocade fabric as surface, quilted for nicer looking and feeling and lining with black water-resistant nylon fabric. Image below is for illustration purposes only.
Read More
Saved to