Saucy Plum Crisp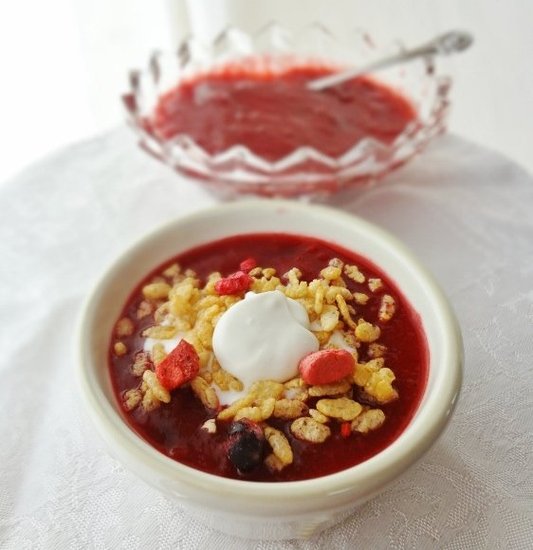 This recipe is perfect for summer time: it is quick and easy, and you don't even have to use your oven! Try mixing in different fruits, like strawberries and raspberries for different flavor combinations
Serves 2-3
Gluten-Free, Vegetarian; Free of: Dairy, eggs, soy, cane sugar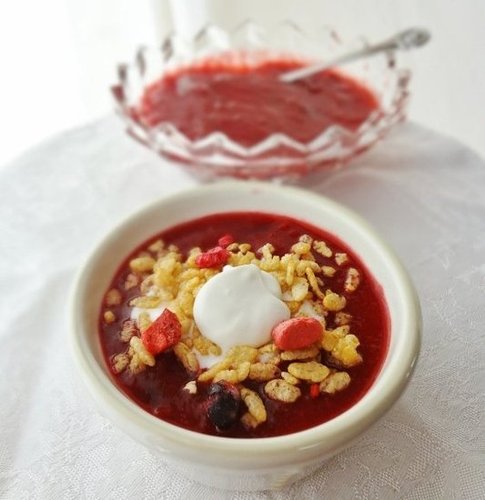 Ingredients
1-1/2 cups chopped plums, very ripe (@ 8 small plums)
3-5 Tablespoons Truvia or Stevia in the Raw, to taste*
2 Tablespoons brown rice flour
1/4 teaspoon cinnamon
1/4 teaspoon vanilla
3 Tablespoons coconut cream
6 Tablespoons Erewhon Crispy Brown Rice Cereal with Mixed Berries
Directions
1. Cut up plums and place in a small saucepan. Bring to a boil over medium heat, then reduce heat and simmer for 5 minutes or so until the plums have cooked down into a chunky sauce. This shouldn't take very long if the plums are quite ripe.
2. Add the brown rice flour, the Truvia, the cinnamon, and the vanilla to the plums and stir well. Allow to sit for @ 5 minutes to cool a bit and thicken, stirring occasionally.
3. Scoop warm plum sauce into 2-3 dishes and top with 2 Tablespoons crispy rice cereal and 1 Tablespoon coconut cream. Enjoy!
* The amount of sweetener you add will depend largely on how tart the plums are and how sweet you want your sauce
Information
Category

Fruit, Desserts
Saved to