Save the Guts: Roast Your Pumpkin Seeds
Before throwing out your jack-o'-lantern's guts, use the pumpkin seeds to make a healthy snack. High in plant sterols and phytochemicals, pumpkin seeds aid in lowering cholesterol and promote good prostate health. On top of that, they're also a good source of protein, fiber, potassium, and magnesium. Try them alone, toss over a salad, or get creative — we like sprinkling pumpkin seeds on peanut-butter-topped apple slices.
To see the recipe and get ideas on how to spice 'em up,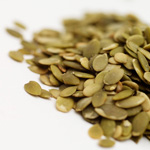 From Michele Foley, POPSUGAR Fitness
Basic Roasted Pumpkin Seeds
Ingredients
2 cups pumpkin seeds
2 teaspoons canola oil
Salt to taste
Optional seasonings to taste
Directions
Liven up this basic recipe by tossing the seeds with additional herbs and seasonings. Use about one tablespoon of seasoning for every two cups of roasted pumpkin seeds, but you can adjust to taste. For a twist, try adding these seasonings to the basic recipe:
Barbecue seasonings
Curry spices
Cinnamon, ginger, and sugar
Garlic powder and cayenne pepper
Parmesan cheese
Brown sugar, chili powder, and nutmeg
Tip: Remove pulp by rinsing the seeds through a strainer. Also, make sure the seeds are completely dry before roasting.
Preheat oven to 350 degrees.
In a large bowl, toss pumpkin seeds with canola oil and salt. (At this stage, also add any additional seasonings to the mix.)
Spread pumpkin seeds evenly onto a baking sheet in one layer.
Bake for about 20 minutes, until the seeds are crisp, stirring every few minutes.
Remove from the oven and, if desired, reseason to taste.
Saved to