Should you be using a heart rate monitor for your workouts?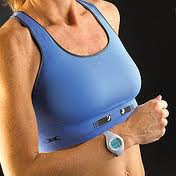 You've probably used the heart rate sensors on the cardio machines at the gym, and you may even wear an actual heart rate monitor – but are they really necessary for a good, effective workout? The answer is: maybe. "This is a difficult question to answer because heart rate ranges are individual and depend on several factors such as cardiovascular function, genetic design, gender, environment, and the goals that the individual is trying to achieve", says Jeffrey Dolgan, a Clinical Exercise Physiologist at Canyon Ranch Health in Miami Beach.
 
Dolgan says the goals of heart rate ranges are to determine how your body reacts to different intensities.  "Traditionally, the belief has been that if you were working between 60% and 85% of your maximal heart rate, then you were working in an aerobic (able to utilize oxygen for metabolism) zone and if you were working above 85%, you were working in an anaerobic (not able to supply oxygen fast enough to meet the demands of energy supply) zone".
 
Heart rate training helps with weight loss
And if your goal is weight loss, then heart rate monitoring is a great way to stay efficient and effective with your time. To drop pounds, "the ultimate goal should be to turn the human body into a calorie-torching machine by building cardiovascular fitness" says Dolgan. "As fitness improves, heart rate will be lower at any relative intensity (i.e. 140 bpm at 4mph prior to training and 125 bpm at 4mph after training)", says Dolgan. Which means heart rate monitoring could help you burn more calories overall by working within your specific heart rate training zones.
 
Calculating your heart rate training zones
The traditional equation for determining your heart rate training zones is:
220-age = maximal heart rate
Multiply max heart rate by .65 for the low end of your zone.
Multiply max heart rate by .85 for the high end of your zone.
Dolgan says to keep in mind there is a standard error of plus or minus 25 beats per minute with this equation, and recommends doing the talk test after completing your calculations.  "If you reach your predicted 85% and could easily hold a conversation this is a sign that your heart rate ranges are higher than predicted", explains Dolgan.  "Add 5 bpm and re-check your breathing.  If you have truly reached 85% of your maximal heart rate you will be slightly out of breath; conversely, if you achieve 85% of predicted max heart rate and are miserably out of breath, this is a sign that your ranges are lower than expected".
 
Recovery Matters
And pay attention to your recovery time. Dolgan says, "heart rate recovery is a product of your cardiovascular function and your fitness, and the faster your heart rate recovers the better.  The basic rule of thumb is that your heart rate should drop at least 12 beats per minute when going from high intensity exercise to recovery but 30 beats in a minute is the goal".
 
Tell us: do you use a heart rate monitor for your workouts?

 
Saved to