Simple Almond Milk
Almond milk naturally contains fewer calories than plain soy or skim milk, and has higher amounts of calcium, vitamin E, vitamin D, vitamin A. Almond milk is our absolute favorite dairy replacement beverage, and is fantastic in lattes.
Cost Savings
Store Bought Almond Milk: The least expensive almond milk we can find is a 32 ounce of "natural" (although contains ingredients that we don't have in our kitchen) almond milk for $2 ($.06 per ounce).Cost for 18 Ounces: $1.13
Home Made Raw Almond Milk: The least expensive "raw" Almonds
we can find is $4.39 per pound ($0.30 per ounce). 3/4 cup is about 3.915 ounces. Almond cost: $1.18 PLUS you'll yield about 1.15 ounces almond flour. A bag of Bob's Red Mill almond meal is about $0.58 per ounce. Value of Almond Flour: $0.67. Net Cost: $0.52.
In addition to saving money, you can control the sweetener, ingredients, whether or not you use organic, and it is sprouted – "awakening" the enzymes in the almonds, making them more nutritious, easier to digest, and tastier.
Recipe adapted from Sunfood.com
. It's how we make it at our house!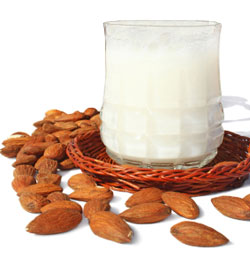 Ingredients
16 oz pure water
3/4 Cup Dry Almonds
2-4 Dates (or 1 Tbsp Honey)
Directions
Soak almonds in a bowl or cup overnight (makes about 1 cup soaked almonds). Pour out soaking water and place almonds in Blender
. Pour half of pure water into the blender and add dates (or honey). Blend on high for 30 seconds. Add remaining 8 oz of pure water and blend for another 30 seconds. Over a large bowl, pour contents of blender into nut milk bag
and milk/massage material so that the bowl fills up with your freshly made and strained almond milk.
Notes: Blending first with only half the water is a great way to ensure your almonds are well blended.
Spread almond meal onto sheet
on dehydrator tray
to dry, grind in coffee grinder, and use as almond meal.
Makes 18 ounces of raw, sprouted almond milk and 1.15 ounces almond flour.

 
Information
Category

Other, Drinks
Saved to