Simple Crock Pot Apple Pumpkin Butter
This pumpkin butter is a less sweetened version, using apple sauce and a bit of organic palm sugar to sweeten it just enough. The result is a toddler-friendly perfect addition to muffins, pancakes, toast, or right out of the jar as an apple dipper.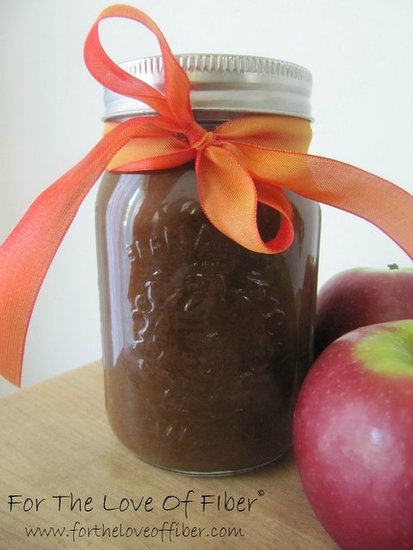 INGREDIENTS

Use organic ingredients when possible.
* = good source of fiber
2 cups of pureed pumpkin (or one 15 oz. can) *
½ cup of unsweetened applesauce *
1/3 cup organic palm sugar
1 tsp. ground cinnamon
¼ tsp. ground nutmeg
1/8 tsp. ground ginger
1/8 tsp. ground cloves
1/8 tsp. cardamom
PREP
1.  Combine all ingredients in your crock pot, and set it to the lowest setting. Cover, and let cook for about 5 – 6 hours, stirring occasionally, until thickened.
2. Turn crock pot off, and let cool. Once cool, spoon into glass jar and cool completely in refrigerator before using. It keeps in the refrigerator for up to 2 weeks (if it lasts that long) and in the freezer for up to six months or so.
Dig this recipe? Sign up for updates…it's FREE! Sign me up! 
Nutrition Facts
Serving Size: 2 tbsp.
Calories: 28
Total Fat: 0 g
Saturated Fat: 3 g
Cholesterol: 0 mg
Sodium: 75 mg
Total Carbohydrate: 8 g
Dietary Fiber: 1 g
Sugars: 7 g
Protein: 0 g
Follow For The Love Of Fiber on Facebook and Twitter!
Saved to