Skinny Creamy Tomato Basil Soup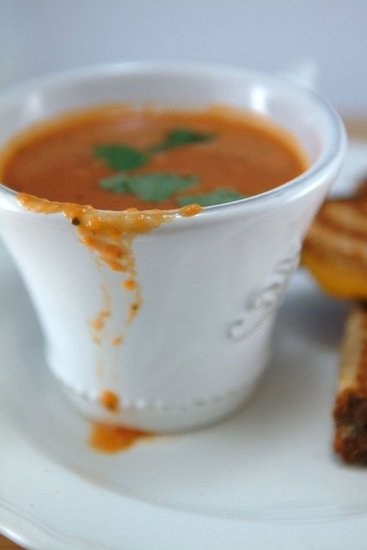 For more recipes like this check out Whipped, at www.whippedbakingcom
Start to finish – you can have this soupon the table in 30 minutes! Its so easy and so addictively good, the perfect balance of flavors with the savory creamy tomato soup and bright basil. Plus this is low cal. Super low cal guys. It might be creamy but you won't find any cream in this recipe thanks to low-fat yogurt and almond milk.

Skinny Creamy Tomato Basil Soup

Ingredients:
1 tablespoon olive oil

1 small onion, finely chopped

3 garlic cloves, finely minced

4 tablespoons tomato paste

2 (14.5 oz) cans low-sodium diced tomatoes

1/2 cup packed fresh basil

1/2 teaspoon fresh thyme leaves

1/2 cup low-sodium chicken broth

1/2 cup unsweetened almond milk (or any kind of milk, nondairy or regular)

1 cup plain soy yogurt (or regular plain nonfat yogurt)

3/4 teaspoon kosher salt

pepper to taste
Preparation:
Heat oil in large saucepan over medium-high heat. Add onion and garlic. Reduce heat to medium-low and cook, stirring occasionally, until the mixture is soft and fragrant, about 3 minutes.

Stir in tomato past, and cook, stirring constantly, until the tomato paste darkens, 1 1/2 to 2 minutes. Add the canned tomatoes with juices, basil, and thyme, and simmer, stirring occasionally, until slightly thickened and reduced, about 7 minutes.

Transfer mixture to a food processor (or use an immersion blender) and pulse to combine. Add the chicken broth, almond milk, and yogurt, and process until completely smooth. Rinse out pot to clean.

Pour the soup back into the clean pot and cook over medium heat until it's warm, about 5 minutes. Stir in salt and pepper.
Saved to