Sloppy Joe Pockets - not a horror movie
The title may sound strange, after I took photos my husband said they looked like scenes from a horror movie. Tomatoes to him look like blood. I thought they looked delicious. This recipe is from RR's magazine and it's part of the "no recipe zone." She posts pictures with text about a recipe and then you make it. You can get the recipe from her site. See the step by steps.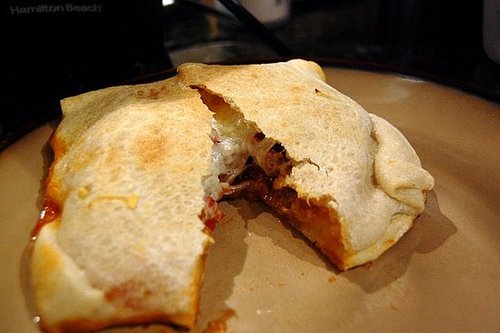 Sloppy Joe Pockets - not a horror movie
Ingredients
2 tablespoons extra-virgin olive oil
1 red bell pepper, coarsely chopped
1/2 onion, coarsely chopped (I used a whole onion)
Salt and pepper
1 1/2 pounds ground turkey (I used a pound)
1 cup tomato sauce
1 tablespoon Worcestershire sauce
1 pound pizza dough (I used the pizza dough in a can)
8 ounces mozzarella cheese, shredded (2 cups)
Directions
Preheat the oven to 400°.
In a large, heavy skillet, heat the olive oil over medium heat. Add the bell pepper, onion and a pinch of salt and pepper and cook, stirring occasionally, until softened, about 5 minutes. Add the turkey and cook over medium-high heat, breaking up the meat, until cooked through and crumbly, 6 to 8 minutes. Stir in the pizza sauce and Worcestershire sauce, season to taste with salt and pepper and let cool.
Lightly grease a baking sheet. Divide the dough into quarters and, working with 1 piece at a time, roll out and stretch into an 8-inch round. Place the rounds on the baking sheet, with about a third of each round hanging over the edges of the pan.

Image from RR Magazine
Mound the turkey mixture onto each round, leaving a 1/2-inch border. Top each with the cheese and then fold the dough over the filling; crimp the edges together to seal. Cut a small vent in the top of each pocket for ventilation.


Image from RR Magazine
Bake until puffed and golden, 15 to 20 minutes.

Information
Category

Poultry, Main Dishes
Saved to