Slow Cooked Beef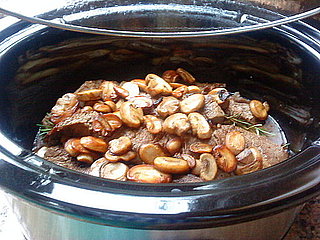 I was in the mood to use my crock-pot and chuck roast was on sale. I love the traditional American Pot Roast with potatoes and carrots seasoned with Worcestershire Sauce but I wanted to try something new. I also have three bottles of Sherry (some purchased and some given to me by a neighbor who was moving) and I want to find ways to use it up. I'll let you know how it tastes after tonight's dinner, it smells amazing! I put Ree's list of ingredients first and my variations in parenthesis.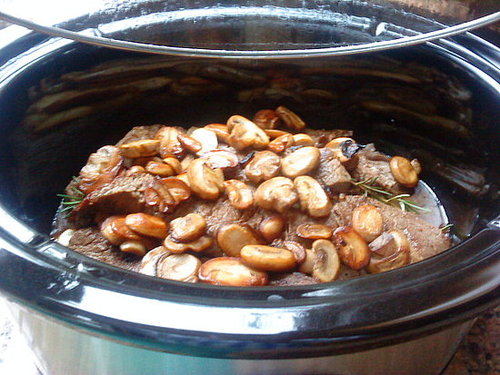 Ingredients
1 whole 2.5 To 4 Pound Chuck Roast (1 3 1/2 lb Chuck Roast - trimmed fat and discarded)
¼ cups Butter (yes)
1 whole Large Onion, Sliced Thick (yes, again)
3 cloves Garlic, Peeled (yes and sliced in half)
(1 pkg pre-sliced mushrooms, I used button)
½ cups Soy Sauce (reduced to 1/4 cup)
1 cup Sherry (cooking Sherry Is Fine) (I would say No to cooking Sherry, I reduced it to 1/2 cup and used Dry Sherry)
½ teaspoons Salt (sprinkled a little coarse ground Kosher salt while browning the meat, just one side)
4 cups Water (1 cup water)
Toasted, Buttered Deli Rolls
OPTIONAL: Rosemary, Thyme, Other Spices (1 sprig of fresh Rosemary, cut in half and 1 Bay Leaf)
Directions
Heat butter in a heavy skillet (or pot if not using a crock-pot) over medium heat. Saute the onions for a couple of minutes, or until starting to get brown. Remove onions and place with garlic in the bottom of the crock-pot.
Cook sliced mushrooms in the remaining butter after browning onions, adding oil if needed to get a nice brown color on the mushrooms. Remove and set aside in small bowl.
Add more oil and brown chuck roast on all sides with the burner set to medium high. Place on top of the onions in crock pot.
Remove skillet from heat and add the Sherry and Soy Sauce, return to heat and simmer while scraping up browned bits in bottom of skillet (this is my standard, add amazing flavor step...do it, you won't regret it. Pour over roast in crock-pot and rinse skillet with 1 cup of water and pour that into crock-pot as well.
Add 1 sprig of Rosemary (optional) and 1 Bay leaf (also optional). Pour the browned mushrooms on top of beef.
Cover pot and set the crock-pot on low setting for 7-10 hours.(or on the stove on lowest setting, for 6 hours, or until beef is fork-tender and falling apart. **If meat is not yet tender, return to oven for 30 minute intervals till it's tender!**, these are Ree's instructions)
Shred meat with two forks until all large chunks are gone. Serve immediately or continue to simmer for 30 minutes to 1 hour.
*Mixture can be refrigerated overnight. Remove hardened fat from top of pan before reheating.
Serve on top of toasted, buttered deli rolls. Top with cheese and place under the broiler if desired.
Information
Category

Main Dishes, Beef
Saved to