Snow!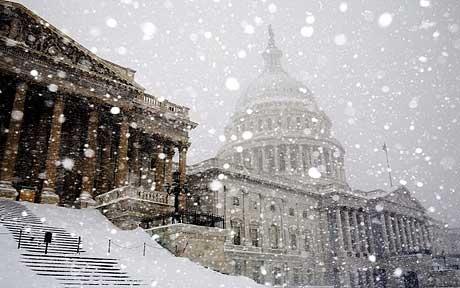 As I'm sure you all know, a big snowstorm hit the East Coast this weekend!  Was anyone affected by the snow?  Since DC isn't used to snow,
a lot
shut down here.  Above ground trains weren't running on the metro, bus service stopped completely, and federal government agencies were closed yesterday!   As for me personally, I didn't have to work at Sephora at all this weekend and I got the day off at my office job yesterday.  On Saturday, I walked from Foggy Bottom to my apartment (on Capitol Hill), taking pictures along the way.  (The pictue shown isn't mine; it's from telegraph.co.uk.)  I will post some of my pictures later this week.
So, what about you all?  I know at least sy and sam should have been affected by the snow.  What good (and bad) effects did you feel from the storm?
Saved to