Soup A` L'Oignon (French Onion Soup)
I've made this soup before and I've even used this recipe before, but for some reason it turned out amazing this time. I could eat it all day. I think it's time for me to buy the special soup bowls for this dish, I had to borrow them from a friend this time.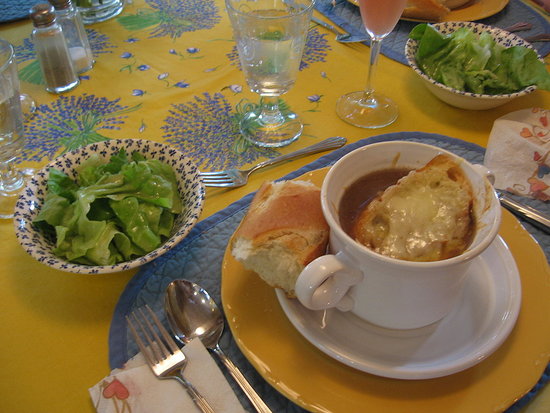 William-Sonoma Paris: Authentic Recipes Celebrating The Foods Of The World
Soup A` L'Oignon (French Onion Soup)
Ingredients
2 1/2 lb yellow onions
3 tablespoons unsalted butter
1 tablespoon canola oil
pinch of sugar
salt & freshly ground pepper
2 cups light red or dry white wine (I used Chardonnay)
8 cups beef stock
1 bay leaf
6 thick slices coarse country bread, each 1 1/2 inches thick (I used Trader Joes Rustic Baguette)
3 cups shredded Comte` or Gruyere cheese (I used Gruyere)
Makes 6 servings
Directions
1. Using a mandoline or sharp knife, thinly slice the onions lengthwise. (I used Quisinart Food Processor with slicing disk). Set aside.
2. In a large, heavy pot over medium-low heat, melt the butter with the oil. Add the onions, cover, and cook, stirring occasionally, adding the sugar and seasoning to taste with salt and pepper, until th eonions are meltingly soft, golden, and lightly caramelized, 25-30 minutes. (I divided the onions into two batches, browned on in a nonstick skillet the other in the dutch oven, then put them all together in the dutch oven to finish caramelizing. This is where the amazing flavor is built so don't rush the process, it might take longer than 30 min.)
3. Add the wine, raise the heat to high, and cook until the liquid is reduced by about half, 8-10 minutes. Add the stock and bay leaf, reduce the heat to medium-low, and let the soup simmer, uncovered, until it is dark and fully flavored, about 45 minutes. If the liquid is evaporating too quickly and the soup seems to taste too strong, add a little water, then cover the pot and continue cooking.
4. Just before serving, preheat the oven to 400 F. degrees. Arrange the bread slices on a baking sheet and toast, turning once (I lightly toasted in my toaster oven instead), until golden on both sides, 3-5 minutes each side. Remove from the oven and set aside.
5. Remove the bay leaf from the soup and discard. Ladle the hot soup into ovenproof soup bowls arranged on a baking sheet. Place a piece of toast on top of each bowl and sprinkle evenly with cheese (I put some in soup before placing the toast on top too). Bake until the cheese melts and the toasts are lightly browned around the edges, 10-15 minutes. (You can also broil for just a few seconds if you watch very closely so that it doesn't burn.) Remove from the oven and serve at once with extra bread. I added a simple Butter Lettuce salad with Champagne Vinaigrette. Serve with a classic bistro red wine. It was great with Pinot Noir and another time we had it with a Cremant (Sparkling Rose`). The book recommends Beaujolais from Cotes de Brouilly or Morgon.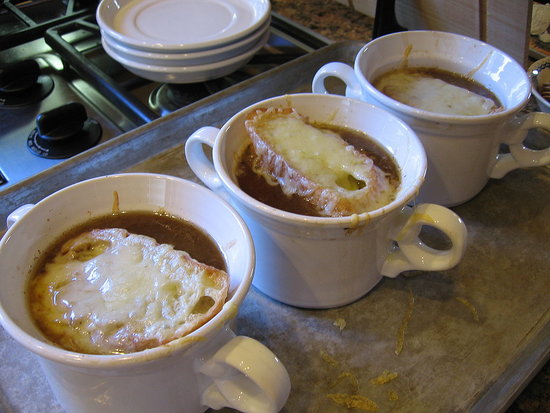 Information
Category

Soups/Stews

Cuisine

French
Saved to