Southern Chocolate Coconut Pecan Pie
I originally posted this recipe and photo a couple of years ago. My food photography skills have improved somewhat but I can't say the same for my pie crust making skills. :oops: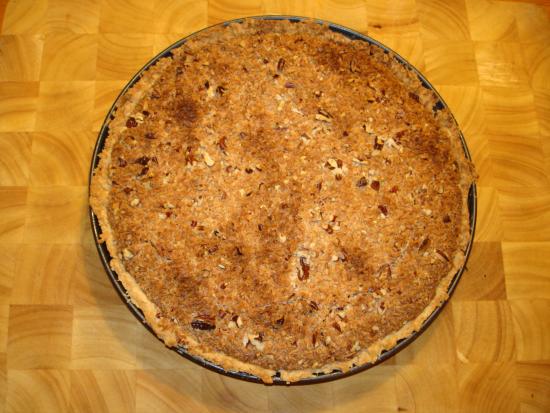 Family recipe
Southern Chocolate Coconut Pecan Pie
Ingredients
4oz package of semisweet chocolate
1/4 cup butter
1 2/3 cup evaporated milk
1 1/2 cup sugar
3 Tbs cornstarch
1/8 tsp salt
2 eggs
1 Tbs vanilla extract
1 unbaked 10 inch pie shell
1 1/3 cup flaked coconut
1/2 cup chopped pecans
Directions
Combine butter and chocolate in a bowl over a pot of boiling water. Stir until melted. Remove from heat and gradually add evaporated milk. Combine sugar, cornstarch and salt in another bowl. Beat in eggs and vanilla. Slowly blend in chocolate mixture. Pour into pie shell and top with coconut and pecans. Bake at 375 degrees for 50 minutes. Cool for at least 4 hours. It takes this long for the filling to set.
Information
Category

Desserts, Pies/Tarts

Cuisine

North American
Saved to