Spelt Bread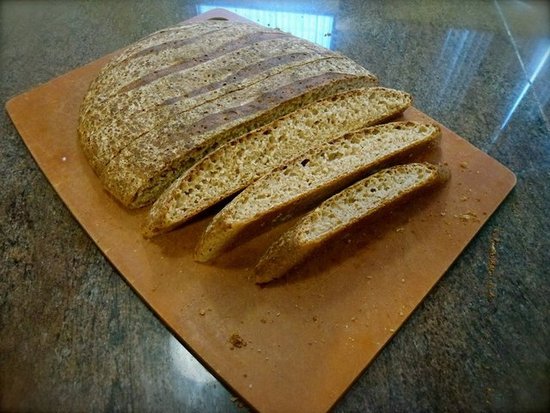 A few months back I attended a Pastry & Puddings course at the Ashburton Cookery School in the Devonshire countryside. The last cooking class I ever attended was Home Economics in High School. So you can see why I was looking forward to discovering some new techniques. 
The road trip from London felt long but my niece and I past the time by pointing out all the animals and different scenery to each other. Look cows... Look a pig farm... Oh look there's a strawberry fruit stall and so on... As you can probably tell, us suburban city girls don't get out to the countryside much!! This was also the first time I had ever been to this part of Britain and it was simply stunning. Our weekend getaway had started... 
The cookery school was friendly and well organised. Each class had a young apprentice who helped out behind the scene so all you have to do is concentrate on creating amazing dishes. 
As you've probably figured out, I have had some experience with bread making. However, I had never used spelt flour before. Spelt has had a resurgence in the last few years as people start to make and buy artisan produce. It was a staple flour popularly used from the European bronze age to the medieval times. Benefits of using spelt flour include it being easily digestible, higher in protein and a great source of fibre. Plus the nutty taste it gives the bread is unique and absolutely delicious. 
The original recipe was created by the chefs at the Ashburton Cookery School and demonstrated by our chef Alan Stannard who worked as a Pastry Chef at Rick Stein's Seafood Restaurant, as well as a chef at many luxury restaurants and hotels around the country. 
Check out the recipe here.
Saved to