Spelt & Flax Crackers with a Lemon Dill Sunflower Pâté
Spelt & Flax Crackers with a Lemon Dill Sunflower Pâté
Ingredients
for the crackers:
1/2 cup + 1 tbsp spelt flour
1/2 cup flaxmeal (I used golden flaxmeal)
1 tsp baking powder
1/4 tsp fine grain sea salt
2 tsp raw sugar
3 tbsp olive oil
3 tbsp water
for the pâté:
1 cup raw sunflower kernels, soaked for at least 6 hours
2-3 tbsp olive oil
2 tbsp fresh dill
1 tbsp fresh lemon juice
1/8 tsp roasted garlic powder
pinch of sea salt
Directions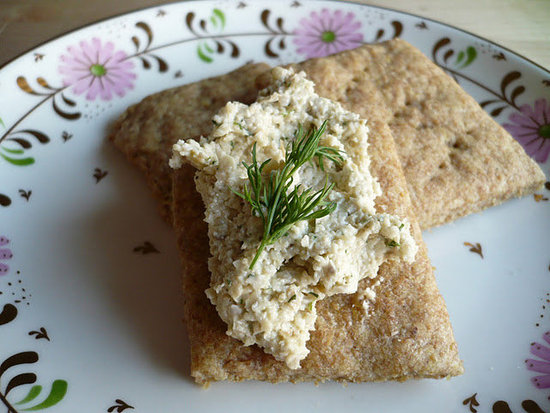 for the crackers:
Preheat your oven to 400F. Get either a silpat or sheet of parchment ready (you will roll the cracker dough out on this before placing it on your sheet pan).
Whisk together the dry ingredients until combined. Make a well in the center, then add the water and oil. Mix with a spatula or wooden spoon until the dough comes together. Dust your hands with some spelt flour, then knead the dough a few times until it is smooth. Lightly dust your silpat or parchment with some spelt flour. Place the dough on the sheet and roll it out with a rolling pin until it is about 1/16" thick, making sure to keep it on the sheet. Using a pastry or pizza cutter, cut the dough into squares, then use a fork to prick the crackers. Transfer the sheet to your baking sheet and bake the crackers for 8-12 minutes until they are golden and crisp at the edges. Remove from the oven and check to see if you need to re-cut any of the crackers (the dough should pull away as it bakes, making this unnecessary). Cool for about 10 minutes on the sheet, then transfer to a rack to cool completely. Enjoy!
Makes 15-18 large crackers
for the pâté:
To soak the sunflower seeds: put them in a medium sized bowl, cover them with water, and let them soak overnight or for at least 6-8 hours. Strain and rinse them before using.
In a food processor or high speed blender, process the ingredients until a thick, creamy pâté forms. If you are using a high-powered blender such as a Vitamix, you will have to be careful that it doesn't start turning into sunflower butter. Once the pâté is thick and creamy, taste it and adjust for seasoning. Serve immediately with the spelt & flax crackers or anything of your choosing. Store leftovers in an airtight container in the fridge. Enjoy!
makes about 1 1/2 cups
Information
Category

Appetizers, Breads/Crackers
Saved to