Spinach Artichoke Dip in Whole Grain Bread Bowl
This is an indulgent dip, to say the least, so moderation is key. I've modified it a bit to reduce some of its caloric load (swapping out mayo for lemon juice, olive oil, and sour cream) and of course, increasing the fiber content, without sacrificing taste.  Use organic ingredients when possible.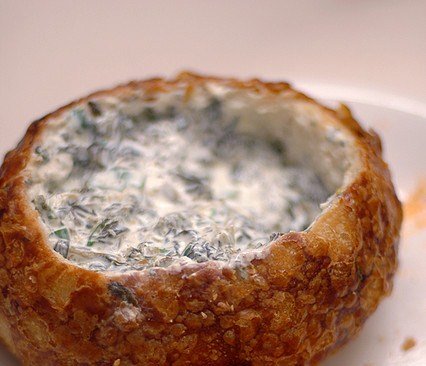 INGREDIENTS
* = good source of fiber
2 (4 oz.) jars artichoke hearts in water *
2 cups fresh spinach  *
4 oz. Neufchatel cheese
¼ cup extra virgin olive oil
¼ cup lemon juice
¼ cup sour cream
Salt and pepper to taste
¾ cup shredded Parmesan cheese
2 large round loaves whole grain bread *
 
Image courtesy of stacya
PREP
1. Preheat oven to 350 degrees. Drain artichokes, using blender or food processor, combine artichokes,  spinach, Neufchatel cheese, olive oil, lemon juice, sour cream, and ½ cup Parmesan until relatively smooth (small chunks are ok). Set aside.
2. To make bread bowl, take one loaf and cut around the top portion in a circular pattern. Point the knife downward and at an angle so the bowl slopes down and toward the center of the loaf. Be careful not to cut through the bread as the top is being cut and removed. Pull off the top, cutting away any part holding onto the bottom. Cut up remaining top and second loaf into bite size pieces for dipping.
3. Spoon artichoke mixture into bread bowl and sprinkle with remaining Parmesan cheese. Bake 20 minutes or until brown.  Serve warm with bread bites.
 
For this and other fiberlicious recipes, visit www.fortheloveoffiber.com.
Nutrition Facts
Serving Size: ¼ cup & equiv. to 1 bread slice
Calories: 200
Total Fat: 9 g
Saturated Fat: 3 g
Cholesterol: 10 mg
Sodium: 260 mg
Total Carbohydrate: 26 g
Dietary Fiber: 4 g
Sugars: 2 g
Protein: 7 g
 
Follow us on Facebook and Twitter! 
Saved to