Spinach and Tofu Calzones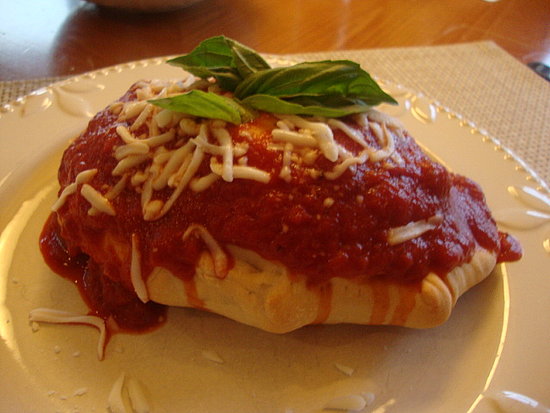 Now that's a calzone!
I've noticed I've been making a lot of pasta/Italian dishes like the Stuffed Shells and Lasagna–no reason, really–perhaps the rainy weather is prompting cravings for comfort food…whatever the reason, I'm not complaining.
The spinach part of the recipe makes quite a hog of a calzone, so if you're not into that, I recommend either halving the spinach/tofu mixture or doubling the dough recipe to make more calzone that can be stored in the fridge or freezer…or make smaller calzones–8 instead of 4. As the recipe stands, you could easily split one between two people.  Add your favorite pizza toppings if you wish…I added mushrooms, olives (black, green or both), vegan mozzarella. Try Smart Deli ham with pineapple…you name it. I also warmed up 1/2 a jar of marinara sauce to pour on top–a must!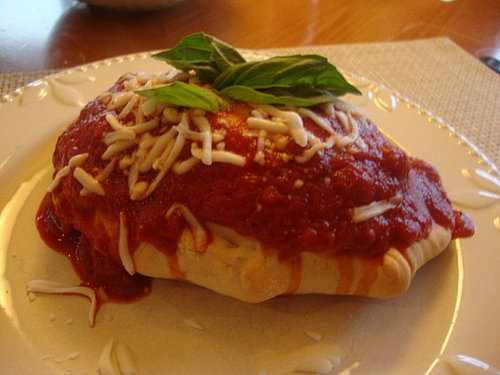 Vegan Planet
Spinach and Tofu Calzones
Ingredients
1 C cooked, chopped spinach, squeezed dry
4 oz soft silken tofu, drained
Salt and pepper
1 Tbs olive oil
2 garlic cloves, minced
1-16oz pkg. extra-firm tofu, drained, pressed and crumbled (I use 14 oz since that's all I had)
1 Tbs minced fresh basil leaves
1 tsp dried oregano
Optional: your favorite calzone/pizza toppings like mushrooms, olives, vegan ham, pineapple…
Optional: 1/2-1 C vegan mozzarella
Optional: 1/2 a jar of marinara sauce (Muir Glen Organics only has 4 grams of sugar–much less than my previous favorite–Newman's Own)
1 recipe Traditional Pizza Dough (below):
1-1/2 tsp active dry yeast
1/4 C warm water
2-1/4 C unbleached all-purpose flour
1 tsp salt
Pinch of sugar or natural sweetener
1 Tbs olive oil, plus more for spreading
Directions
To make dough: Place yeast in a small bowl. Add 1/4 C of the water and stir to dissolve. Set aside for 5-10 minutes. To make the dough in the food processor (like I did), combine the flour, salt, and sugar, pulsing to blend. With the machine running, add the yeast mixture through the feeding tube, along with the olive oil and as much of the remaining 1/2 water (I needed another 1/3 C in addition to the 1/2 C) as necessary to make the dough hold together. To make the dough by hand, combine the flour, salt, and sugar in a large bowl. Stir in the yeast mixture, olive oil, and remaining 1/2 C water until well combined. Turn dough out onto a lightly floured work surface and knead until smooth and elastic, about 3 minutes. Transfer to a large oiled bowl. Spread a small amount of oil on top of the dough, cover with plastic wrap, and set aside in a warm place to rise until doubled in bulk, about 1 hour.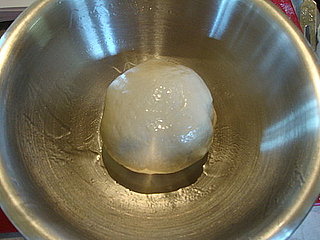 Use immediately or store for up to 8 hours in the refrigerator or for 3-4 weeks in the freezer. Make sure it is tightly wrapped in plastic.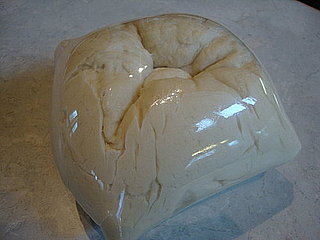 (I decided to store it in the fridge for about 45 minutes and it continued to rise…)
Anyway…
To make calzone: Preheat oven to 375. In a blender or food processor, combine the spinach, silken tofu, and salt and pepper to taste. Blend until smooth and set aside.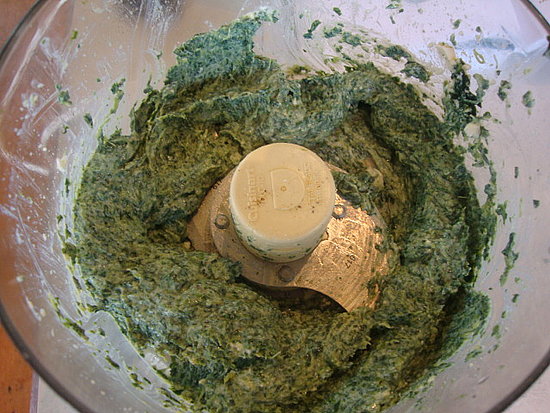 (I recommend having the rest of the ingredients ready to go before proceeding).  Heat olive oil in a medium skillet over medium heat. Add the garlic and cook until fragrant, about 30 seconds. Add the firm tofu, basil, oregano, and salt and pepper to taste. Cook, stirring , until any liquid evaporates, about 5 minutes. Remove from heat and stir in the spinach mixture. Taste and adjust the seasonings, the set side to cool.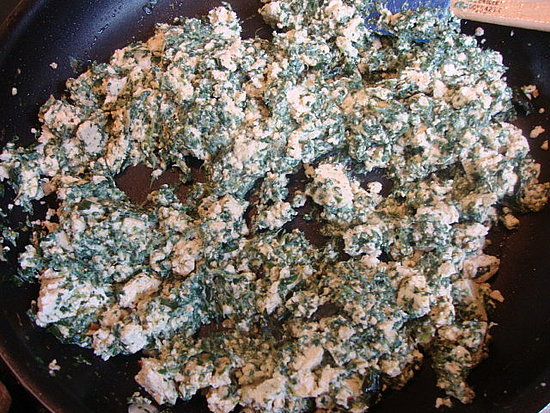 Punch the dough down and divide it in half (to make 4 calzones, divide into fourths). On a lightly floured surface, roll out each piece into a 1/4″ thick circle. Divide the filling equally between the dough circles, leaving a 1″ border around the edge. (This is where I smooshed in fresh mushroom pieces, olives and a bit of vegan mozzarella).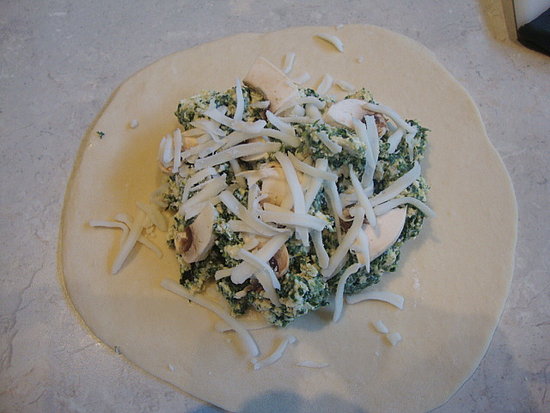 Fold the empty half of the dough over the filling and press down along the edge with your fingers, then seal with a fork.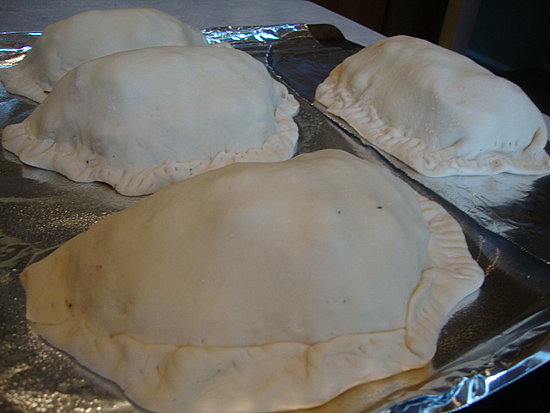 Place on a lightly oiled pizza pan or baking sheet. Bake until the crust is golden, about 30 minutes. Let stand at room temperature for 10 minutes before serving.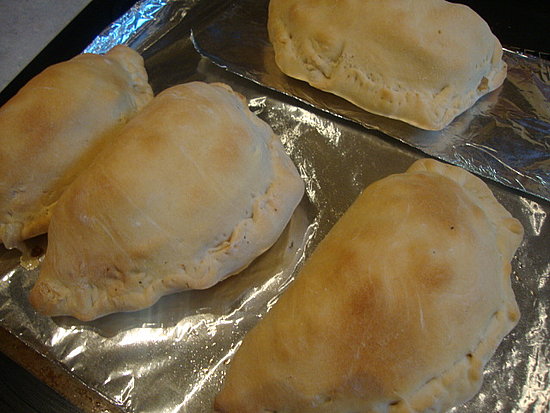 If using, heat marinara over the stove and pour a ladle-full over the calzone. Top with a pinch or two of vegan mozzarella and enjoy!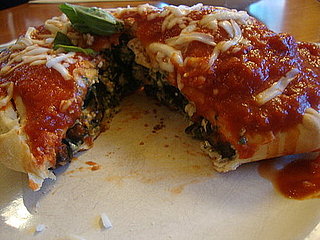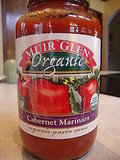 Information
Category

Main Dishes, Tofu
Saved to