Stale bread = Homemade croutons!
Today I learned people making and selling croutons in those pouches at the grocery store are making a killing!  It's super easy and super cheap to make at home...and the result was the best croutons I've ever tasted if I do say so myself.
I was actually looking for croutons at the store today but stopped and thought, "what am I doing? it's just seasoned toast!"  So I made up a recipe in my head and went home and did it.  Very easily customizable of course, too.  I think it's self-explanatory, but the thought to make them never crossed my mind, so I thought maybe others wouldn't have either?
Homemade Croutons
Ingredients:
Bread (I used 4 slices)
Butter (I used 1 tbsp)
Garlic salt
Italian herbs
 
Directions:
1. Preheat oven to 350 degrees.
2. I stacked the slices of bread 2 at a time and cut them into small squares - about 1 cm x 1 cm or so. Poured them into a bowl.
3. Melted the butter and poured it over the bread squares, then seasoned to taste - I used a dash of garlic salt and a dash of italian seasoning.
4. Using my hands, tossed the ingredients until no bread pieces are without butter/seasoning and none are drenched.
5. I put a sheet of aluminum foil on a baking pan for no-fuss cleanup and poured the bread on, shaking it so there was a thin layer.
6. Bake for about 5-10 minutes, checking often. Some pieces may cook faster than others.  It's super fast to make and super delicious - I want to say it's closer to a 5 minute bake time, but I guess it depends on the size of your bread and the state of your oven.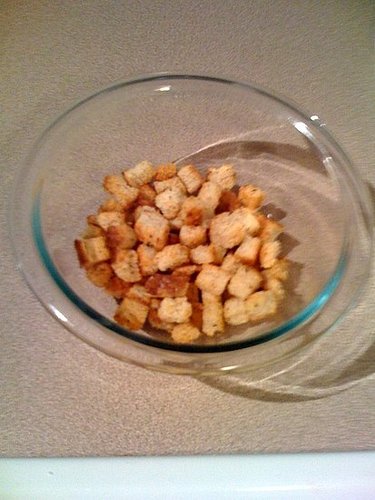 YUM.
Saved to