Super-Fruity Sangria
Sometimes scotch and martinis are too stiff to serve and don't quite go with your meal. This brings me to Sangaria, a refreshing mix of wine, brandy and fresh fruits served over ice. It instantly makes a party feel festive, especially in the summer time- and because it's on the sweet side, you can get away with not serving a dessert if you prefer. It's a red-wine punch, although it can be made with white wine (known as sangria blanco).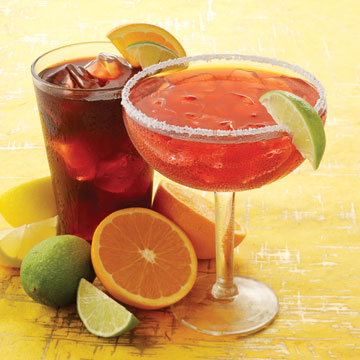 Your Cheat Sheet For Fabulous Entertaining
Super-Fruity Sangria
Ingredients
1 Bottle Red Wine
2 Cups Orange Juice
2 Cups Ginger Ale
1/4 Cup Brandy
1/2 Cut Triple Sec
1 Thinly Sliced Orange (Keep a Few Pieces for Garnish)
1 Thinly Sliced Granny Smith Apple
1 Thinly Sliced Lime
Other Fuits, if desired
Directions
Combine ingredients in a pitcher and keep in the fridge overnight. Before your sangria shinding, add ice cubes to the pitcher , pur into glasses and garnish with an orange wedge.
Information
Category

Drinks, Cocktails
Saved to