Super Omega-3 Banana Nut Bread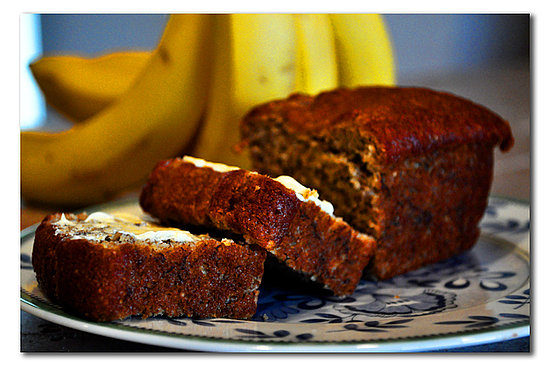 This is my Mom's famous banana bread recipe. I think it originally came from the red and white checkered Better Homes and Gardens recipe book that everyone who got married in the 70′s has. It's a bit updated with less sugar, more fiber, and an insane dose of heart-healthy omega-3s (flax seed, walnuts, and chia seed gel). To make gel, mix chia seeds with water – 1:9 ratio, 1 part seeds, 9 parts water, and let sit for 30 minutes.
Fear not if you're short on chia gel – it's not exactly mainstream, but definitely a worthy addition to your pantry. You can use virgin coconut oil instead, which gives it a really nice texture and flavor and adds a host of health benefits. This is a great breakfast bread or healthy after school snack for the kiddos! Use organic ingredients when possible.
Image courtesy of GoodNCrazy
INGREDIENTS
* = good source of fiber
½ cup chia gel * (or virgin coconut oil)
½ cup maple syrup
2 eggs
2-3 ripe bananas *
1 ¼ cups whole wheat flour *
½ cup ground flaxseed *
¾ tsp. aluminum-free baking soda
½ cup chopped walnuts *
PREP
1. Preheat oven to 375 degrees.  In food processor or blender, cream chia gel and maple syrup until fluffy. Add eggs, one at a time. Add bananas.
2. In large bowl, combine dry ingredients. Add banana mixture and walnuts. Pour into loaf pan greased with coconut oil. Bake for 40 minutes.
For this and other fiberlicious recipes, visit www.fortheloveoffiber.com.
Nutrition Facts
Serving Size: 1 Slice
Calories: 180
Total Fat: 7 g
Saturated Fat: 1 g
Cholesterol: 35 mg
Sodium: 92 mg
Total Carbohydrate: 27 g
Dietary Fiber: 6 g
Sugars: 11 g
Protein: 5 g
Saved to