Sweet 'N Tangy Barbecue Quinoa Bean Salad
Yield: 4 servings | Prep Time: 15 min | Cook Time: 15 min
Perfect for your summer barbecues, this salad's secret sauce takes your love of quinoa to a whole new level & will turn haters into evangelists.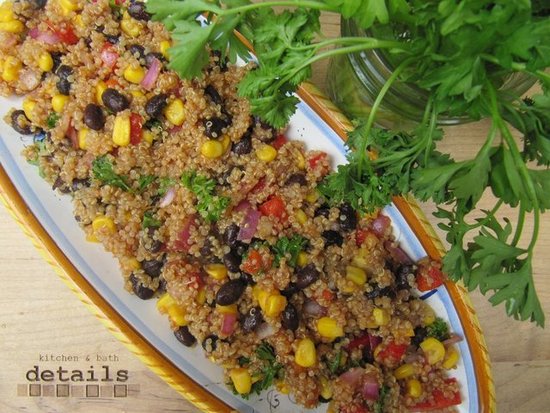 INGREDIENTS
Quinoa Bean Salad
Use organic ingredients when possible
* = good source of fiber
1 cup dry quinoa *
2 cups vegetable broth or filtered water
½ cup red onion, chopped *
½ cup red pepper, chopped *
1 cup frozen corn kernels *
1 cup cooked black beans *
¼ cup fresh parsley, stems removed
¾ cups prepare barbeque sauce (recipe below)
Barbecue Sauce
PREP
If soaking your quinoa, allow an 8-24 hour soak in filtered water. Drain, rinse, and decrease the water/broth you are using by about 1 cup (using 3 cups instead of 4) and simmer time (see below).
1. In a saucepan, combine quinoa and vegetable broth/water. Bring to a boil. Reduce heat, cover, and simmer until quinoa softens and liquid evaporates – about 15-20 minutes.
2. While quinoa is cooking, prepare barbeque sauce by melting butter or oil in a small saucepan over medium heat. Add onion and garlic and season with salt and pepper. Cook until soft, about 2 – 3 minutes. Add ketchup, vinegar, Worcestershire sauce, and spices. Bring to a simmer and cook, stirring occasionally until slightly thick, about 5 minutes. Set aside.
3. Once quinoa has softened and liquid has evaporated, remove from heat, cool, and place in a large bowl. 4. Add remaining ingredients, barbeque sauce, and mix gently to combine.
Note: Recipe can be easily doubled, tripled, and beyond. Cook once, eat A LOT.  
 
For this and other fiberlicious recipes, visit www.fortheloveoffiber.com.
Nutrition Facts
Serving Size: ¼ of Recipe
Calories: 352
Total Fat: 5g
Saturated Fat: 1 g
Cholesterol:  4 mg
Sodium: 570 mg
Total Carbohydrate: 67 g
Dietary Fiber: 10 g
Sugars: 15 g
Protein: 13 g
Follow For The Love Of Fiber on Facebook and Twitter!
 
Saved to