Sweet-Potato Beef Stir-Fry
I really enjoyed this dish and loved that it was so super easy to make!
Nutrients per 1-cup serving:
Calories 230
Total Fat 7g
Sat Fat 2g
Carbs 29g
Fiber 7 g
Sugars 8g
Protein 38 g
Sodium 180 mg
Cholesterol 65 mg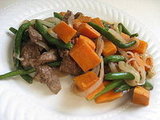 Ingredients
1 lb eye round beef steak, sliced 1/8 inch thick, then cut into 1-inch strips
½ tsp sesame seed oil
1 tbsp unsweetened apple butter
1 tbsp low-sodium soy sauce
½ tsp red pepper flakes (I used ½ of this)
2 garlic cloves, crushed
1 ½ inch slice fresh ginger, crushed
2 cups sweet potato, diced into 1-inch chunks
1 cup green beans
1 tsp olive oil
1 medium onion, thinly sliced
Directions
In a large bowl, mix beef with sesame seed oil, apple butter, soy sauce, red pepper flakes, garlic, and ginger. Set aside.
Bring 3 cups water to boil in a medium pot over high heat. Add sweet potato, cook for 5 to 7 minutes, until soft but still firm. Remove sweet potato with strainer or slotted spoon; do not drain water. Return water to a boil. Add beans and boil for 4 minutes, until soft but firm. Drain.
Add olive oil to a large wok or skillet over high heat. Once hot, add beef mixture and onion, tossing quickly until done, about 3 or 4 minutes. Then toss in sweet potatoes and beans. Cook for 1 more minute. Serve.
Saved to