Sweet Potato, Kale & Black Bean Fajitas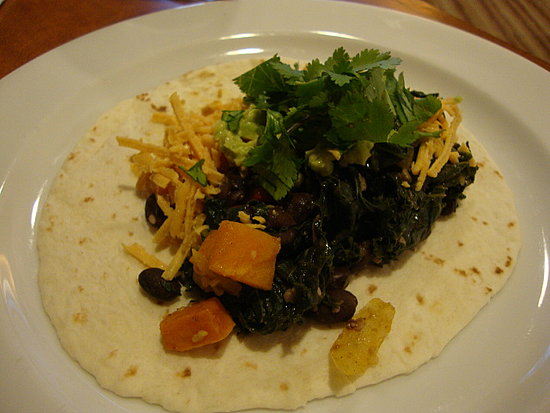 I'mmmm baaaacckkk! And boy, does it feel good. I had an amazing conference experience that you can read about at Folsom's 93 and then a fabulous respite up in the mountains where we got to spend time with some great friends and just relax. It was a great opportunity to try out a new recipe my friend posted at Tried and Tasted Recipes and it was absolutely delicious! I will be making this again and again. It makes quite a bit, as we fed about 8 and still had leftovers.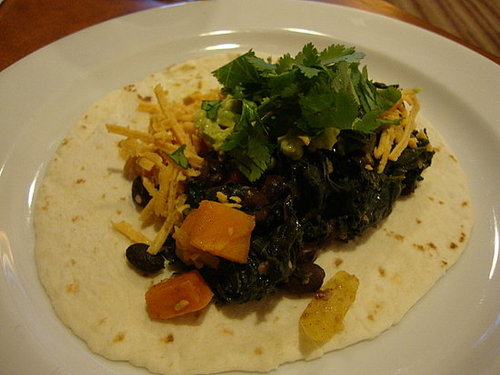 Cultivating Sustainability
Sweet Potato, Kale & Black Bean Fajitas
Ingredients
3 Tbsp extra virgin olive oil, divided
1 large or 2 medium sweet potatoes, peeled and chopped into 1/4 inch cubes (I used 2)
2 red bell peppers, diced
1 large red onion, diced
10 cloves garlic, minced, divided
1 large bunch of kale, rinsed and roughly chopped
1 can black beans, rinsed and drained (I used 1-1/2 cans)
2 tsp ground cumin, divided (I recommend more)
1 tsp ancho chili powder (again, I suggest adding more)
Freshly ground salt and pepper
8 tortillas
Optional ingredients: Cilantro, Tofutti sour cream, vegan shredded cheddar or pepper jack cheeze, guacamole
Directions
In a large saucepan, heat 2 tablespoons of olive oil and add 6 cloves of minced garlic; saute 5 minutes. Add the potatoes and peppers, and saute another 5 minutes. Stir in 1/2 tsp of the cumin and the ancho chili powder. Turn to medium heat and cook for 10 minutes, then season with salt and pepper.
In a smaller saucepan, heat the remaining 1 tablespoon of olive oil and garlic. Add the beans and kale; stir once and cover for 2-3 minutes, or until the kale has cooked down. Season with the rest of the cumin and more salt and pepper.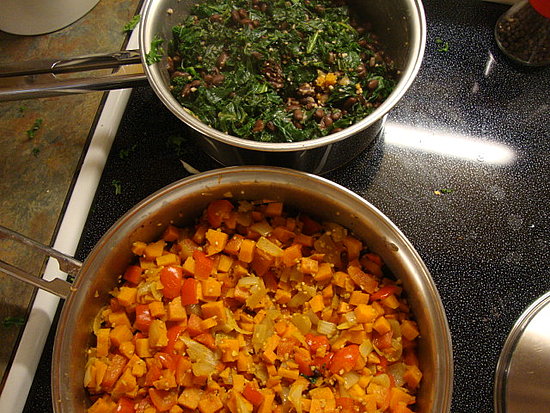 Serve a scoop or two of each mixture onto warmed flour tortillas with Tofutti sour cream, cilantro, cheeze, and guacamole. You won't be disappointed—they are outstanding!
Information
Category

Main Dishes, Potatoes
Saved to