Sweet n' Tangy Lemon Poppy Seed Loaf Cake
I have finally cut the muffin addiction!
Cakes aren't all that different from muffins, but it's still a change!
One of my favorite cakes to nibble on during the afternoon with either a nice hot cup of tea or a freezing cold glass of milk has got to be this Lemon Poppy Seed Loaf Cake.
It's SO moist and tangy and has a small sweet and sour taste going on, that I love!
It's easy to make... and to eat. :P
Trust me, you'll finish a slice of this in seconds without even noticing!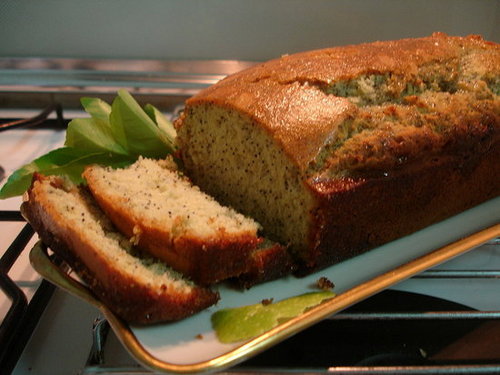 Mom's recipe notebook, who knows where she got it from!
Sweet n' Tangy Lemon Poppy Seed Loaf Cake
Ingredients
For Cake:
2 cups flour
1 cup sugar
1 tsp baking powder
1/4 cup milk
2 large eggs
2 tsp vanilla extract/essence
1/2 cup butter/margarine (1 stick)
1/3 cup poppy seeds
lemon zest from 2 lemons
pinch of salt
For glaze:
1/2 cup sugar
1/3 cup lemon juice
Directions
Preheat oven to 350 F/180 C
For Cake:
1. In a large mixing bowl, cream butter/margarine until fluffy, add sugar, vanilla, lemon zest and eggs. Beat until well combined and add in milk.
3. Now in another mixing bowl combine the rest of the ingredients (sift if you want).
4. After that, add in slowly the dry mixture to the wet mixture, careful to not over beat!
5. Pour cake batter into a greased loaf pan and pop it in the oven for 35-40 min.
For Glaze:
While your cake is baking just grab a small pan and add in the lemon and sugar.
Put that over a medium heat and stir until the sugar is dissolved and the mixture looks glossy.
Final Product:
Once the cake is done baking, pour the glaze over the loaf (still while its in the pan) and let it cool. Once its completely cooled, remove the cake from the pan and... EAT! :)

Information
Category

Breads, Cake, Dessert Bread
Saved to