Sweet n' spicy twice-baked sweet potato
These sweet potatoes have plenty of flavor from the caramelized onion, creaminess from the ricotta, crunch from the pecans, and just a lil kick from the cayenne!
Serves 1-2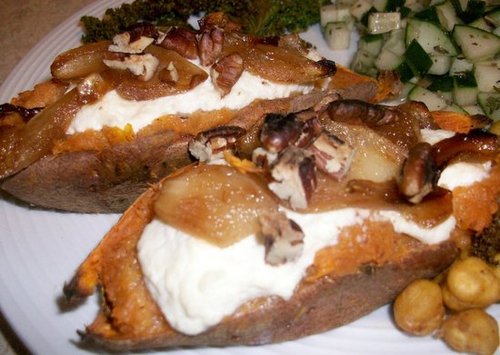 Sweet n' spicy twice-baked sweet potato
Ingredients
1 medium sweet potato
1/2 tbsp almond milk
1/4 tsp cinnamon
2-3 dashes of cayenne pepper
salt and pepper to taste
2 tbsp ricotta
~2 tbsp caramelized onion
~5 pecans, chopped
Directions
First things first, cook your sweet potato until it's soft.  I baked mine for about 45 minutes at 375°F but you could also prick the skin with a fork and then microwave for 6-10 minutes depending on the size of your potato.  I had leftover caramelized onion from yesterday but if you don't have any on hand, you'll want to get them going after putting your sweet potato in!
Once the potato is done, slice it in half and scoop the flesh into a small mixing bowl.  Be sure to save the skins!  Add almond milk, cinnamon, cayenne, salt, and pepper.  Mash with a fork until smooth.  Stuff the mixture back into the skins and top each half with ricotta, onion, and pecans.  Bake at 375°F for 10 minutes and then broil until the pecans toast, about 5 minutes.
Information
Category

Main Dishes, Potatoes
Saved to