Swirled Cheesecake Brownies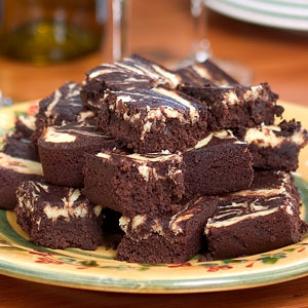 These are soooo good to be so good for you. Totally tates like brownie mix out of the box and they are so easy to make. Enjoy!!!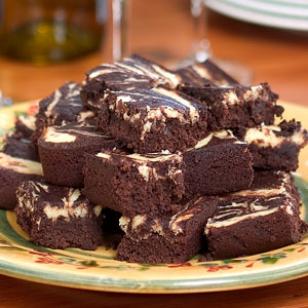 Swirled Cheesecake Brownies
Ingredients
Cheesecake topping
* 4 ounces reduced-fat cream cheese, (Neufchatel)
* 1/4 cup sugar
* 1 large egg
* 1 tablespoon all-purpose flour
* 1 tablespoon nonfat plain yogurt
* 1/2 teaspoon vanilla extract
Brownie layer
* 2/3 cup whole-wheat pastry flour
* 1/2 cup unsweetened cocoa powder
* 1/4 teaspoon salt
* 1 large egg
* 2 large egg whites, or 4 teaspoons dried egg whites (see Ingredient note), reconstituted according to package directions
* 1 1/4 cups packed light brown sugar
* 1/4 cup canola oil
* 1/4 cup strong (or prepared instant) coffee, or black tea (I used tea)
* 2 teaspoons vanilla extract
Directions
1. Preheat oven to 350° F. Coat a 7-by-11-inch brownie pan or baking pan with cooking spray. (I used a 9x13 because thats all I had. There is enough batter for the whole pan, but they are very thin. Use the size recommended if you want thicker brownies.)
2. To prepare topping: Place cream cheese in a small mixing bowl and beat with an electric mixer until smooth and creamy. Add sugar and beat until smooth. Add egg, flour, yogurt and vanilla; beat until well blended.
3. To prepare brownie layer: Whisk whole-wheat flour, cocoa and salt in a bowl. Place egg, egg whites and brown sugar in a large bowl and beat with the electric mixer on medium speed until smooth. Add oil, coffee (or tea) and vanilla; beat until well blended. Add the dry ingredients and beat on low speed just until well blended, stopping once to scrape down the sides.
4. Scrape about half of the brownie batter into the prepared pan. Slowly pour the topping evenly on top. Drop the remaining brownie batter in large dollops over the topping. Draw the tip of a sharp knife or skewer through the two batters to create a swirled effect.
5. Bake the brownies until the top is just firm to the touch, about 20 minutes. Let cool completely in the pan on a wire rack. Coat a knife with cooking spray and cut into 24 bars.
It takes about 20-25 mins. to get the batter together and about 1-2 hrs. to cool.
Information
Category

Desserts
Saved to