TOTAL RECALL 2012 (an 'it' sci-fi flick of the year and for the future..)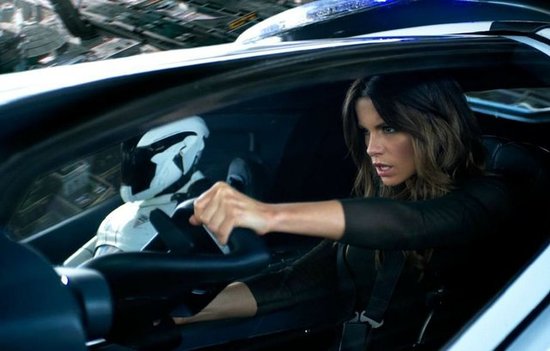 E-Value: 9.9/10
Acting: 9.9/10(Kate Beckinsale, Colin Farrell) 8.5/10(Jessica Biel), 7.5/10(other cast)
Plot : 9.9/10
Special point: 10/10(Len Wiseman, the director of TOTAL RECALL 2012)
Set in the near end of 21st century after the post apocalyptic war, the earth is ruled by a new supremacy power known as United Federation of Britain (UFOB). Over the years, the minority civilians, the colonists have been politically subdued for their freedom, equities and also their inhabitant spaces.
In this new horizon of dystopian lives a colonist, Douglas Quiad (Colin Farrell) who works as a factory worker in the field of assembling synthetic soldiers. In spite of having blissful domestic life with his beautiful and caring wife, Lori (Kate Beckinsale) , Quiad often questions himself of his low life existence and daily chores. Suffered with such great extent of discontent, Quiad visits Rekall, a private corporation that implants virtual mind vacation of 'memories' as what clients dreamt for.
However the process goes awry when the Rekall boss, McClane (John Cho) detects some abnormality through their transfer protocol and turns out that Quiad actually has the 'memories' as he requests to implant into his mind. McClane demands Quiad to speak out his intention to deal with Rekall. Amidst of their conversation, armed men abruptly storms in the organization and shoot all employees including McClane before Quiad unexpectedly able to fight them back to stay alive.
Upon returning to home, to what Quiad dismays, Lori tries to kill him and reveals that she isn't literally his wife and his is in fact – a secret agent. Quiad manages to escape but ends up on a run as the most wanted man by the government. On the run, he eventually stumbles upon Melina (Jessica Biel), a rebel fighter who revolts against UFOB which is led by Vilos Cohaagen (Bryan Cranston).
Soon Quiad teams up with Melina while trying to connect the dots behind his true identity….
The director of this new version 2012 Total Recall, Len Wiseman (producer of Underworld Awakening and also the husband to Kate Beckinsale in reality) indeed exerted the very best of his efforts to what this movie has to offer. In fact, I think that the latest version Total Recall is literally an EXPLOSIVELY-BEST-REMAKE EVER towards the extent I'm not ashamed to say that it also surpasses the original early 90's Schwaneggar's version.
From the start till end it churns out with lots of adrenaline blasts! I am surprised at the moment when Quiad comes face to face to 'himself' half way through his run. The suspense grasp hits right at one point when the line between fantasy and reality overlapped and put Quiad into test to choose what he believes in. Not to mention, that unpredictable twist of the master plan behind all the plots hatched by the villain, Cohaagen is such a knockout!
First things first on casting part, I think it is very fortunate that Kate Beckinsale doesn't end up playing that brief role of three boobs girl as planned early by Wiseman due to tight schedule with Underworld Awakening. Kate pulls off an immaculate acting chops playing that psycho bitch, crazy and super violent Lori and testifies that she isn't just a brit-beauty but genuinely versatile actress. Although with tight filming schedules between Underworld Awakening and Total Recall, she comes out with clear cut in between both.
In relativity with Colin Farrell's stiffness acting in Fright Night, in latest Total Recall, he exerted solid and dynamic vibes to be Douglas Quiad, trust me, it is million times better.
Well, another great performance example is Jessica Biel who played Melina, the rebel fighter and destined to be Quiad's soul mate.
The designed sets of dystopian and technologies props appear REMARKABLY SURREAL. Wiseman successfully projected a realistic environment as what he promised during his interview without taking CG route entirely but instead practical constructed sets implanted in between the process especially futuristic automobiles!
So watch out moviegoers, Total Recall 2012 is definitely an 'it' sci-fi movie of the year, well probably for the future too……
Saved to