Thanksgiving - Squash Casserole
5 cups cooked drained yellow squash - mashed or chopped
1/2 chopped onion
2 stalks celery chopped
1 egg beaten
1 prepared pkg or box of corn bread mix ( I use Morrison's Corn Kits)
1 can Cream of Mushroom soup
1 1/2 cups grated cheddar cheese
Cook cornbread according to directions on package.
In a large bowl combine cooked cornbread, 3/4 cup cheese and the rest of the ingredients above. Mix well. Pour into a baking dish sprayed with Pam or similar spray.
Bake covered at 350 for 40 - 45 minutes. Take out, uncover and add remaining cheese. Bake until cheese melts.
This is a picture I googled - not mine but looks very similar.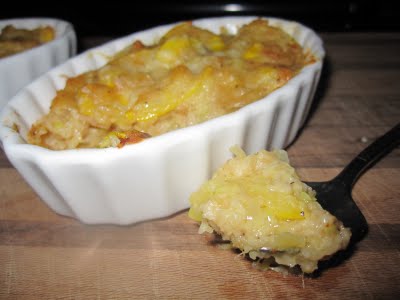 Saved to