Thanksgiving Menu and a Cry For Help!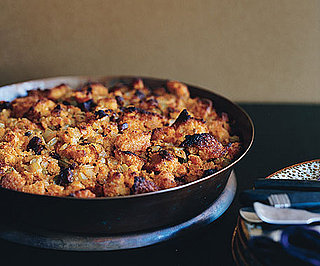 Hey KGs!
I wanted to share my Thanksgiving menu and see if you had any ideas and/or advice. This is the first year we are going to deep-fry our bird. Alton Brown says you should brine it, but Sam Sifton, the new food critic for the NYT, says you should never brine it. What do you think?
Since we are deep-fying the bird, I'm planning a Southern inspired menu. We'll do a chorizo cornbread stuffing (I'm thinking of jazzing up with goat cheese), creamed collard greens, chipotle sweet potato gratin, blue cheese mashed potatoes, and orange cranberry sauce. For dessert, I'm making pumpkin cheesecake with gingersnap crust and marshmallow sour cream topping.
This is where I need your help:
What kind of gravy should I make? Giblet? Turkey neck? Deep-frying the bird means no pan juices to make gravy, any thoughts?
What should I serve as the appetizer? I'm thinking something light, but not too filling.
My sister wants to contribute a dessert. She insists on making something with cranberries and pecans. Know of any good desserts with cranberries and pecans?
I so appreciate your advice — Happy Thanksgiving!
Saved to