Thin Mint Popsicles With Edible Stick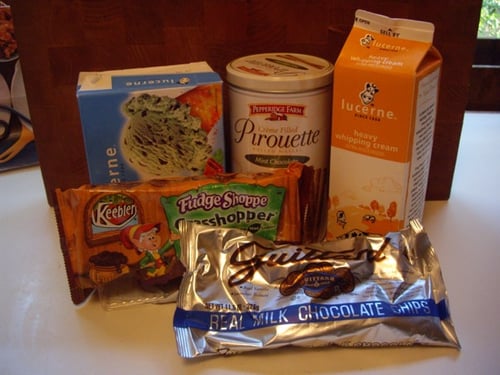 Original Recipe
Thin Mint Popsicles With Edible Stick
Ingredients
2 1/2 cups mint chip ice cream
4 Pepperidge Farm Pirouette Cookies, halved
1/2 cup chocolate chips
2 teaspoons canola oil
1/2 cup crushed Thin Mint Cookies (optional)
Directions
Cut the wafer cookies in half using a sharp knife. Fill 8 3-ounce paper cups half way with mint-chip ice cream. Gently insert the cookie stick in the center of cup. Finish filling cups with the ice cream and cookie sticks. Place in freezer for an hour to harden.
Melt chocolate chips and oil in a saucepan over low heat. Let the chocolate cool to room temperature. Add crushed cookies, if desired.
Remove Popsicles from mold and dip in chocolate. Serve immediately or place in freezer to set.
Makes 8 Popsicles.
Information
Category

Desserts, Frozen
Saved to