Tighten your Waistline & Tone Up your Inner Thighs with ToneItUp Girls!
Hey Fitsugar community! Its Karena & Katrina from ToneItUp!  We LOVE all your posts lately! You're all be rocking with motivation and making fitness run.
Here are 3 fun moves using the stability ball to tone up the inner thighs, the lower abs and your obliques!  Let us know how it goes :) Don't mind Karena eating sand and face planting 3 times at the end.
1. Tone up love handles with the waistline crunch: Lay sideways on the stability ball with your waist directly in the center of the ball. Place one hand behind your head and crunch your obliques to perform the movement.  Repeat on the other side.  Perform 10-15 reps on each side.
2. Balancing Plank on Stability Ball: Start in the plank position with your forearms on the ball and your toes on the ground.  Spell out 'Tone It Up' with your forearms. This is a fun challenge.
3. Tone up the Inner things with the this Challenge!: Start out standing in front of the stability ball.  Bend your knees and place them on each side stability ball.   Find your balance, then lift your toes off the ground.  Keep your abs and thighs engaged.  This is a fun challenge to do with your friends!!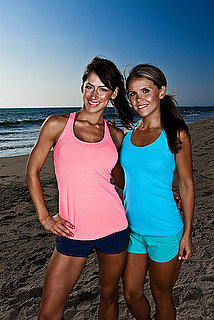 Have FUN!
Karena & Katrina
Join the Tone It Up Fitsugar Community =)
Saved to