Tofutti "Cuties" YUM!!!
I LOVE these things. To me, (and the rest of my family) these taste just like ice cream and were very impressed. I've had the Mint Chocolate Chip and I really couldn't tell they were dairy free. With 130 calories, 6 grams of fat and half the size of a regular ice cream sandwich, you can't go crazy eating the whole box, for that ice cream fix, they're perfect! Check out:
http://www.fitsugar.com/464431 for fit's review.
I'm pretty convinced that Tofutti makes the best dairy-free products.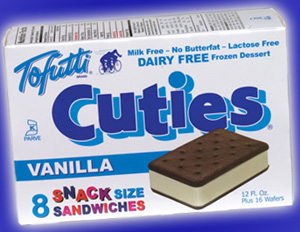 Saved to