Tomato and Cheez Souffle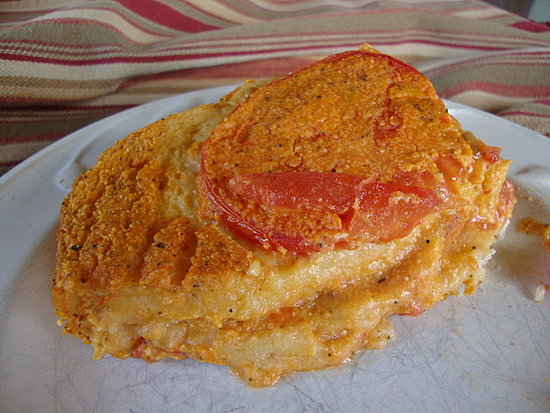 We've all heard about disasters involving souffles, but this is one souffle that's pretty difficult to screw up. This comes from The Ultimate Uncheese Cookbook and it really can't get any easier than this. The recipe calls for a 2-quart baking or souffle dish. A square 8″ baking dish is 2 quarts, but I soon realized that the sides need to be higher. I ended up using less bread and tomatoes, but the same amount of sauce. Next time I'll use a bigger baking dish,  but it still came out amazing. The taste and texture is a lot like lasagna and I think adding some spinach and mushrooms would be ideal!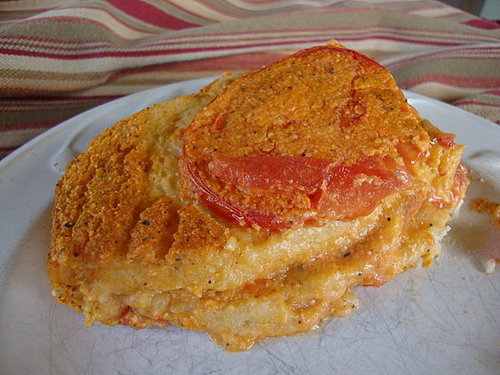 The Ultimate Uncheese Cookbook
Tomato and Cheez Souffle
Ingredients
1-1/2 C water
1/2 C roasted red peppers (skins and seeds removed) or pimento pieces (I used a mixture of both)
1/2 C raw cashews
3 Tbs nutritional yeast flakes
3 Tbs lemon juice
2 Tbs nonalcoholic white wine (I used white cooking wine)
1-1/2 tsp onion powder
1-1/4 tsp salt
1/2 tsp dry mustard
1/2 tsp thyme
1/2 tsp garlic powder
Black pepper, to taste
6-9 slices whole-wheat or rice bread (easily make it gluten-free)!
3 ripe tomatoes, sliced
Directions
Preheat oven to 375. In a blender, combine all the ingredients except the bread and tomatoes. Lightly oil a 2-quart souffle dish. Layer 2-3 slices of bread on the bottom, followed by sliced tomatoes. Pour 1/3 of the sauce on top and repeat layers two more times.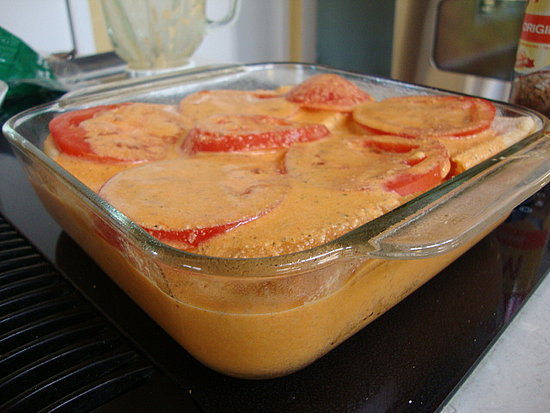 Bake until lightly puffed and golden brown, about 45-50 minutes. It's that easy!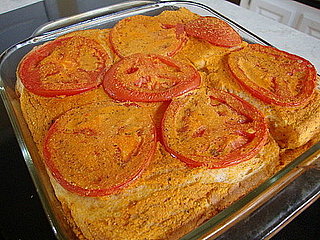 Information
Category

Other, Main Dishes
Saved to