Tropical Quinoa Health Bars
Papaya, mango, and coconut fill these ultra healthy bars with tastes of the tropics.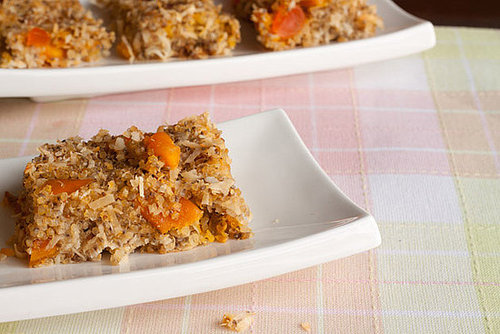 Ingredients
* 1 1/4 cup dry quinoa
* 2 1/2 cups water
* 3/4 cup full fat coconut milk
* 3 eggs – I didn't try the recipe with flax eggs, but it may work!
* 3 tbsp chia seeds
* 1 cup dried mango, cut into bite size pieces*
* 1/2 cup dried papaya, cut into bite size pieces
* 1/2 cup dried figs, cut into bite size pieces
* 1/4 cup honey
* 3 cups shredded unsweetened coconut
* 1/4 tsp Himalayan rock salt
Directions
Rinse quinoa by placing it in a strainer and running it under water for 1 minute. Transfer for a medium sized saucepan, add water and cover. Bring to a boil, then reduce to simmer for 20-25 minutes. Don't remove the lid while cooking. Once complete, remove lid and set aside.
Preheat oven to 325F and line a 9x13 pan with parchment paper across both sides for easy lifting and set aside.
In a large bowl combine quinoa, coconut milk, eggs, and chia. Stir until fully combined.
Add remaining ingredients.
Press firmly into prepared pan and bake for 30-40 minutes or until lightly golden.
Remove from oven and allow to cool for 1 hour before cutting.
Cut with a sharp knife.
Information
Category

Other, Snacks