Turkey Chop Suey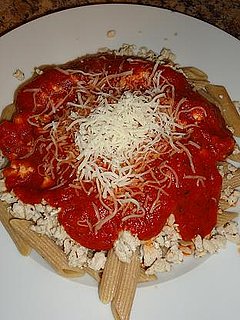 This is my "knockoff" version of American Chop Suey. I like to use extra lean ground turkey because it only has 1g of fat per serving. I also like to use whole wheat pasta instead of regular white pasta. This is a quick and easy meal to make.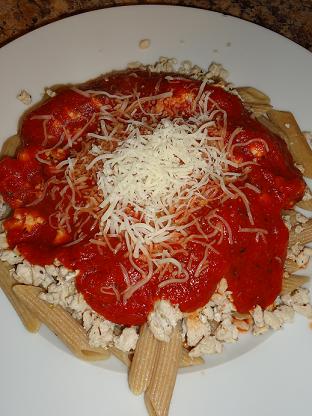 "Original Recipe"
Turkey Chop Suey
Ingredients
1/2 pound extra lean ground turkey
1/4 box of whole wheat pasta (I prefer penne)
1 clove minced garlic (more or less depending on taste)
1 teaspoon Italian seasoning (more or less depending on taste)
Spaghetti sauce (Use desired amount)
Reduced fat mozzarella cheese (enough to sprinkle on top of pasta and turkey) (optional)
Directions
Boil water and cook pasta according to directions on package. On the stovetop while the pasta is cooking spray a non stick skillet with non stick cooking spray (or oil if you prefer) and add minced garlic. Start to cook the meat until no longer pink. While the meat is cooking, heat up sauce in a pan on the stove. When the meat is almost cooked through add the italian seasoning. Drain pasta when it is finished cooking. When the meat is no longer pink and cooked through you can mix it with the pasta and sauce or serve it on top of pasta. Mix sauce with meat or serve on top of meat and pasta. Sprinkle mozzarella cheese on top if desired. This recipe serves two people so add more ingredients for more people.
Information
Category

Main Dishes

Cuisine

Italian
Saved to