Turkey Cutlets with Peas & Spring Onions
Peas and baby onions are harbingers of spring, the first sign that warm weather's on its way. With turkey cutlets and a simple white wine sauce, they pair up in this flavorful dish that calls out for mashed roots or steamed asparagus on the side.
Makes 4 servings
ACTIVE TIME: 30 minutes
TOTAL TIME: 30 minutes
EASE OF PREPARATION: Easy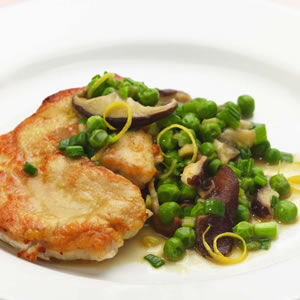 eatingwell.com
Turkey Cutlets with Peas & Spring Onions
Ingredients
1/2 cup all-purpose flour
1/2 teaspoon salt, divided
1/4 teaspoon freshly ground pepper
1 pound 1/4-inch-thick turkey breast cutlets or steaks
2 tablespoons extra-virgin olive oil, divided
4 ounces shiitake mushrooms, stemmed and sliced (about 1 1/2 cups)
1 bunch spring onions or scallions, sliced, whites and greens separated
1 cup reduced-sodium chicken broth
1/2 cup dry white wine
1 cup peas, fresh or frozen, thawed
1 teaspoon freshly grated lemon zest
Directions
1. Whisk flour, 1/4 teaspoon salt and pepper in a shallow dish. Dredge each turkey cutlet (or steak) in the flour mixture. Heat 1 tablespoon oil in a large nonstick skillet over medium-high heat. Add the turkey and cook until lightly golden, 2 to 3 minutes per side. Transfer to a plate; cover with foil to keep warm.
2. Add the remaining 1 tablespoon oil to the pan and heat over medium-high heat. Add mushrooms and onion (or scallion) whites and cook, stirring often, until the mushrooms are browned and the whites are slightly softened, 2 to 3 minutes. Add broth, wine and the remaining 1/4 teaspoon salt; cook, stirring occasionally, until the sauce is slightly reduced, 2 to 3 minutes. Stir in peas and onion (or scallion) greens and cook, stirring, until heated through, about 1 minute. Stir in lemon zest. Nestle the turkey into the vegetables along with any accumulated juices from the plate. Cook, turning the cutlets once, until heated through, 1 to 2 minutes.
NUTRITION INFORMATION: Per serving: 302 calories; 8 g fat (1 g sat, 5 g mono); 46 mg cholesterol; 19 g carbohydrate; 34 g protein; 3 g fiber; 471 mg sodium.
Nutrition bonus: Iron (20% daily value), Vitamin A (20% dv), Vitamin C (20% dv), Folate (14% dv).
Information
Category

Main Dishes
Saved to