Twice-Baked New Potatoes
My husband and I both loved these. He took the leftovers to lunch with him the next day and now his coworkers pester him about when we're having them next.
SERVINGS: 12 (24 pieces)
CATEGORY: Side Dish or Appetizer
METHOD: Baked
TIME: Prep: 70 min. Broil: 10 min.
I lightened this up a little by using extra virgin olive oil (instead of the vegetable oil), 2% cheese, fat free sour cream, reduced fat cream cheese and turkey bacon.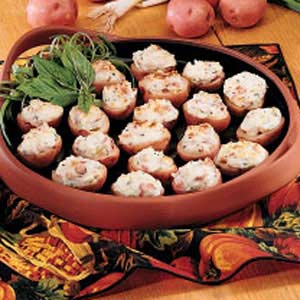 Taste of Home http://www.tasteofhome.com/Recipes/Twice-Baked-New-Potatoes
Twice-Baked New Potatoes
Ingredients
1-1/2 pound small red potatoes
2 to 3 tablespoons vegetable oil
1 cup (4 ounces) shredded Monterey Jack cheese
1/2 cup sour cream
1 package (3 ounces) cream cheese, softened
1/3 cup minced green onions
1 teaspoon dried basil
1 garlic clove, minced
1/2 teaspoon salt
1/4 to 1/2 teaspoon pepper
1/2 pound sliced bacon, cooked and crumbled
Directions
Pierce potatoes; rub skins with oil. Place in a baking pan. Bake, uncovered, at 400° for 50 minutes or until tender. Allow to cool to the touch. In a mixing bowl, combine Monterey Jack, sour cream, cream cheese, onions, basil, garlic, salt and pepper. Cut potatoes in half; carefully scoop out pulp, leaving a thing shell. Add pulp to the cheese mixture and mash; stir in bacon. Stuff potato shells. Broil for 7-8 minutes or until heated through.
Information
Category

Appetizers
Saved to