V & GF Lentil Burgers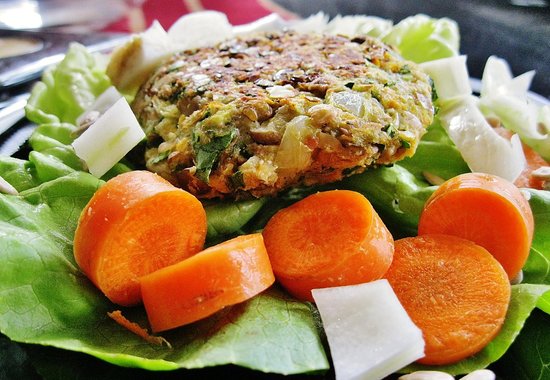 These burgers are quick & easy to make, filled with good-for-you stuff. This recipe makes six burgers.
I had leftover lentils that I cooked yesterday so my prep time was only 5 minutes. I am sure you could use canned lentils (make sure to rinse and drain well!), or if you want you can cook the lentils and then continue with making the burger. This was also my first time making burgers, and I just threw stuff into my food processor hoping it would come out good. These burgers are so tasty and full of flavor, and best of all-they don't fall apart!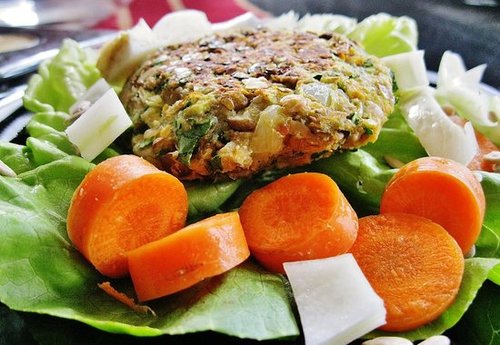 Original
V & GF Lentil Burgers
Ingredients
1 medium carrot, grated
2 garlic cloves, chopped
1/2 medium onion, chopped
2 borecole leaves, torn into pieces (I am sure any other leafy green can be subbed!)
3/4 c cooked lentils
1 tsp dijon mustard
1 tbsp dried parsley
1/4 tsp sea salt
1 tbsp olive oil
1 flax egg (1 tbsp ground flax + 3 tablespoons water)
1/3 c raw buckwheat groats, grind into flour (or sub 1/3 c flour of choice)
Directions
Make flax egg and set aside. Place the first four ingredients into bowl of food processor and blend until the leaves and onions are chopped finely. Now add in the next 5 ingredients and pulse several times, so some lentils stay whole (you don't want to turn this into a dip!). Transfer to a mixing bowl and add in flax egg and combine. Now add in flour and mix throughly using a wooden spoon. Preheat a pan with a little bit of olive oil, and shape the patties. Over medium-high heat bake for four minutes, flip and press the burger down gently and bake for another three minutes. Serve with some sweet potato fries and you've got yourself a veganized and healthy american dinner :)
Information
Category

Main Dishes
Saved to