Vegan Creamy Honey Dijon Salad
This salad is sweet, creamy, and packed with healthy fats. You know what they say about avocado, it has practically EVERY nutrient you need!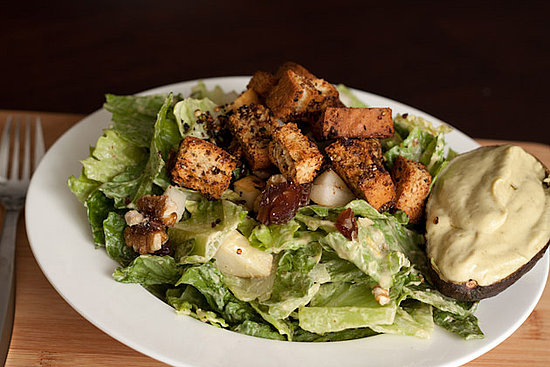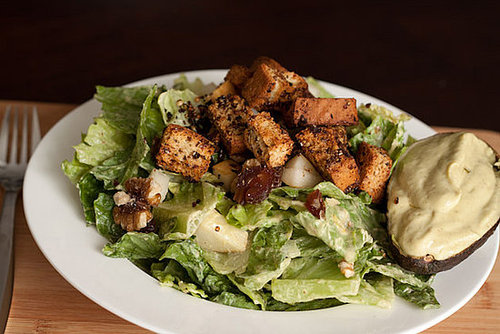 Ingredients
Dressing
* 1 avocado
* 1/4 cup olive oil
* 3-5 tbsp water – depends on how thin you want your dressing
* 2 tbsp lemon juice
* 1 tbsp dijon mustard
* 1 tbsp ginger
* 2 medjool dates, pitted
* 1/4 tsp herbamare
Salad
* 2 cups romaine lettuce
* 1/2 fresh pear, sliced*
* 2 medjool dates, pitted and chopped
* handful walnuts
Croutons
* 6 pieces of udi's gluten-free bread*, cubed
* 2 tbsp ground flax seed
* 2 tbsp coconut oil, melted
* 2 tbsp lemon
* 1 tbsp chia seeds
* 1 tbsp hemp seed
* 1/2 tsp parsley
* 1/4 tsp sage
* 1/2 tsp rosemary
* 1/4 tsp basil
* 1/4 tsp oregano
* 1/4 tsp garlic powder
* 1/4 tsp Herbamare
Directions
To make the dressing: combine all ingredients in a blender or food processor and process until smooth.
To make the salad: combine all ingredients in a bowl, add 2-3 tbsp dressing and toss until combined. Serve with omega croutons (recipe below)
Makes 1 entree sized salad, or 2 side salads + ~1/2 cup salad dressing
To make the croutons:
Preheat oven to 375F and line a cookie sheet with parchment paper or a silicon baking mat. Set aside.
Combine all ingredients but bread cubes in a small dish.
In a large bowl, add bread cubes then pour oil + herb mixture over top. Stir to coat.
Lay out on prepared cookie sheet and cook for 15-20 minutes [mine took 19 minutes] or until golden and slightly hard to the touch.
Remove from oven and let cool for 10-15 minutes. Store in the fridge in an air tight container for up to 5 days.
Makes ~2 cups of croutons. [I'm not 100% sure because I was snacking on them the minute they came out of the oven]
Information
Category

Greens , Salads
Saved to